The advertising network AdDuplex published a new report, tracking down another month of stats.
Overall, from the previous report of October we see that Windows 10 Mobile is now installed on 16% of all active Windows handsets, gaining a short percentage from October's 13.7%.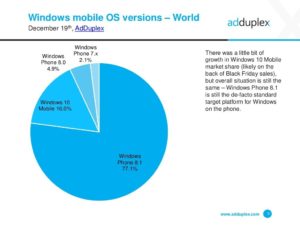 As the caption mentions though, the worldwide Windows phone marked is yet dominated by Windows Phone 8.1, which is not that nonsense after all mostly because :
Microsoft cutted out the x20 Lumia series from being offered Windows 10 upgrade
Most of the people owning a Windows Phone 8.1 device don't know the existence of Windows 10 Mobile
If you don't install the Upgrade Advisor app from the Store the device will never find the Windows 10 Upgrade.
So, without knowing that the Upgrade Advisor exists, many users remain unaware that the upgrade is available to them, which partly accounts for the high proportion of handsets stuck on 8.1.
Anyway, going on the report next shows that of the 17% devices running Windows 10 Mobile, the 82% are running the Anniversary Update, which will be offered until the next version of Windows, the Creators Update, will reach the production state (rumors say that will happen in mid-march 2017). The Creators Update (also known as Redstone 2 or RS2) itself is already running on over the 10% of global Windows 10 Mobile devices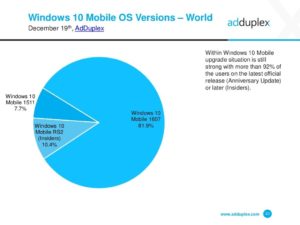 Talking about native Windows 10 devices, we see that Nokia/Microsoft Lumia x50 series is dominating the scene with a 97.5%. That percentage speaks for itself talking about how the worldwide selling of third-party OEMs Windows 10 devices is going.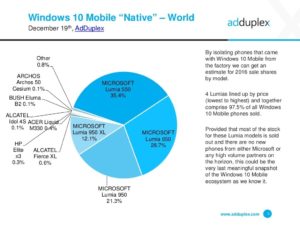 Before closing, let's have a look at the PC environment too, AdDuplex data shows that 86.3% of Windows 10 machines are now running the Anniversary Update, with less than 1% of Windows 10 PCs are running the latest preview builds on the Insider Program.
In this report AdDuplex also included a markdown of Microsoft Surface devices running Windows 10, with the Surface Pro 4 being the most popular with a percentage of 37.4%.
The new Surface Studio makes its entry with a 0.1% presence. Although it wasn't a real sellout, stocks are already over in the US and won't be replaced until 2017, so let's just expect the percentage of Surface Studio to grow within the next year