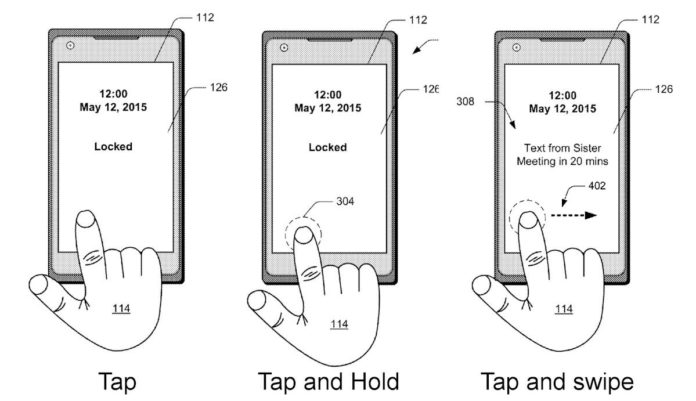 Not a while ago Google launched Google Pixel Smartphone which feature fingerprint scanner gestures. This feature allowed user to perform various actions such as display notifications by swiping their fingerprint scanner in a certain direction and more.
Meanwhile Microsoft also working on something similar concept. Microsoft registered their own version of fingerprint scanner gestures. The patent was filed back in June 2015 called "Biometric Gestures". In this file Microsoft explains:
"In one or more implementations, a computing device includes a biometric sensor, such as a fingerprint touch sensor, that is configured to detect gesture input. When gesture input is received from a user, the biometric sensor detects biometric characteristics (e.g., a fingerprint) of the user and determines a gesture (e.g., a tap, touch and hold, or swipe) based on the gesture input. The user is authenticated if the biometric characteristics correspond to an authorized user of the device. If the user is authenticated, the device transitions to an authenticated user state that is associated with the type of gesture, such as by displaying personal information on a lockscreen of the computing device or opening a quick action center."
Basically Microsoft postulates 3 gestures, all starting from the device being locked. One would be a simply tap, the second tap and hold, and the third one is tap and swipe. All of them would perform different actions, such as simply unlocking the device, displaying notifications or showing appointments and more.
However, the feature is already available on other platforms, so it could be considered overdue on Windows 10 Mobile. And it would be great if we see something new along with these feature on Windows 10 Mobile. Of course this require a special hardware, so it is possible that Microsoft could announce a refurbished version of Windows 10 Mobile at MWC 2017. Maybe that's the reason they are continue to develop Windows 10 Mobile.
Maybe that Microsoft could implement this concept in so called "Surface Phone" or that "Cellular PCs". At this moment we can't say anything all we have to do is just wait for the MWC 2017. Are you excited to see fingerprint scanner gestures in Windows 10 Mobile?
Source : Patently Mobile, USPTO