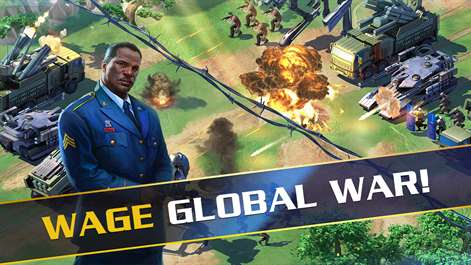 Gameloft's World at Arms – Wage war for your nation got a new update for Windows 10 and Windows 10 Mobile devices. The game has been updated to version 3.4.0.14.
World at Arms – Wage war for your nation! Changelog:
Get ready for Faction Wars 2.0 in Update 24 for World at Arms! Gather allies from all around the globe—as you'll need many of them to achieve victory.
– FACTION WARS 2.0: From now on, Faction Wars will be built around teamwork and endurance, instead of base-rushing.
– TOWER REBALANCE: The power of Faction Turrets has been dramatically increased.
– BREACH-UNIT STATS REVISED: Take advantage of units specialized against each type of tower (Grenade, Pistol, Knife and Specialist).
– DONATION CAP & PRICES REVISED: You will now be able to donate up to 17 units. Units that are more powerful will provide significantly more donation points to your Faction pool.
– FACTION POWER-UPS REVISED. Their price was reduced and stats were increased.
– FACTION WAR REWARDS INCREASED: As Base Breach becomes significantly longer, Faction efforts will also be rewarded accordingly.
– ROBOTS' POWER REVISED: Atlas and Prometheus now draw their power only from units deployed with them into battle.
– MAJOR ECONOMY REVISION: Unit prices reduced. When a unit's Recovery reaches 0, it is destroyed.