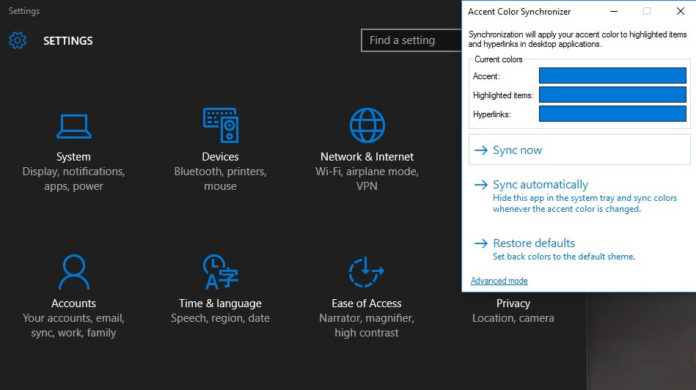 Microsoft introduced Windows 10 with new accent color system. The new improvement applies a custom accent color to apps based on Universal Windows Platform. However, the traditional desktop (Win32) apps is not able to use custom color feature.
Accent Color Synchronizer is a new app that enables custom accent for Desktop applications. It works automatically when needed or you can sync it manually. The mismatch between accent of Desktop apps and Universal Windows Apps could be little annoying for Windows 10 fans but Accent Color Synchronizer app is a easy fix.
Steps to sync Windows 10 accent color with Desktop applications
Download Accent Color Synchronizer.
Extract the content of the downloaded file.
Launch Accent Color Synchronizer.exe.
Click on one of the following button:

SYNC NOW: Sync the accent color right after the button is clicked.
SYNC AUTOMATICALLY: Sync the accent color right after the button is clicked and also whenever the accent color is changed in the future. When this option is chosen, the program is automatically hidden in the system tray and monitors changes to your accent color. To restore the program and stop auto-synchronization, double-click on the system tray icon.
RESTORE DEFAULTS: Reset any change the app may have made to your computer.
You can now easily get Windows 10 color accent on Desktop applications. Do share your thoughts in the comments below.