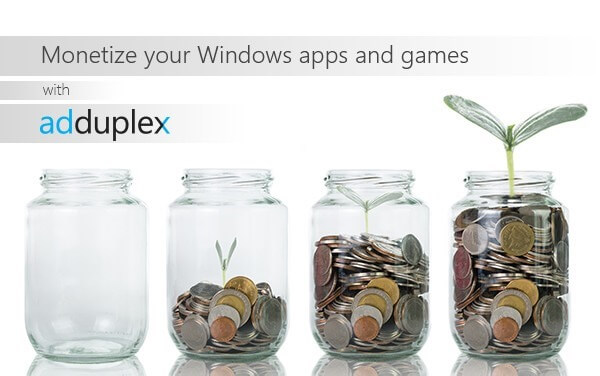 AdDuplex has announced a revamped Ad Monetizing program for Developers who are looking to build Windows apps. There are only few monetization tools available for developers and AdDuplex's new Monetizing Program will help Windows developers a lot.
Here's what AdDuplex has to say about their new Monetizing program:
We have been running a pilot of an ad monetization program with select apps for a few months now and it has been quite a success so far. Most apps and games in the pilot make thousands of dollars per month and advertisers got a way to extend their reach quite a bit. So we decided to extend the program to continue addressing both of the issues app developers and advertisers are facing.
Here are some of the criteria AdDuplex will be considering:
Apps and games capable of showing 10,000+ ad impressions daily. The reason is simple – we want you to make at least few hundred dollars a month. We realize that you may have several smaller apps, so this criteria is not set in stone.
No "gray area" content. Some of the most popular apps, unfortunately, balance on the edge of legality and quite often cross over it. Advertisers don't want to advertise there. We will not go deep analyzing whether what you do is legal or not, but if it feels questionable we will have to pass this time.
Good ad placement. This is subjective and you may not be showing ads right now at all, but we would like to provide value to advertisers, so they are happy to continue generating revenue for you.
Windows Phone 8 or Windows 10 (both Mobile and Desktop). As we want you to make money, we need to be realistic – there isn't much demand on WP7 or Windows 8.x on the desktop.
You can apply for AdDuplex's invite only monetizing program here.