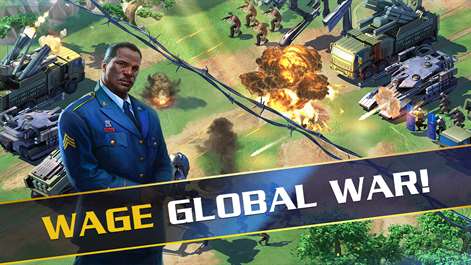 Gameloft has released a new update to its World of Arms game for Windows Phone and Windows Desktop. The update 23 is now live in the Windows Store. The company have launched some new features with the latest update.
What's new ???
Want more power? Come and get it with the special Energizer Boost consumable in World at Arms Update 23!
ENERGIZER BOOST. This consumable item will supercharge all your Badges for a limited time.
BADGE SWAP DISCOUNT. Customize your VIP experience even more with a huge discount on swapping your current Badges for others.
Features:
A war simulation game with brilliant graphics, stunning animations, and realistic units & buildings.
Collect resources, build, upgrade and fuse units, construct facilities and get numerous achievements.
Engage in innovative battles across the globe, on various terrains: desert, urban, underwater & more.
Immerse yourself in the only modern-war strategy game that offers deep-sea exploration and battles!
Construct the new super unit, Atlas, and use it as a game-changer in battle!
Join Factions with other players or form your own to wage war, dominate, and win great rewards!
The update is currently live and you can grab it by clicking the below link.