Microsoft has started reminding the users of Chrome and Firefox browsers the advantages and security features of using its New Edge Browser on Windows 10. Microsoft has turned on a new set of Windows Tips that inform Chrome and Firefox users on Windows 10 that Edge is a "safer" browser.
One of the Microsoft Spokesperson confirmed the news in an interview on VentureBeat,  "This wave of Windows Tips (as shown below) for Windows 10 users began in early November,". The Security of the Edge Browser has also been confirmed by NSS Labs, which is the company which studies the Security of the Browsers pertaining to Malware. NSS Labs has also stated that the Edge Browser blocks 21% of Malware compared to other Browsers like Chrome and Firefox.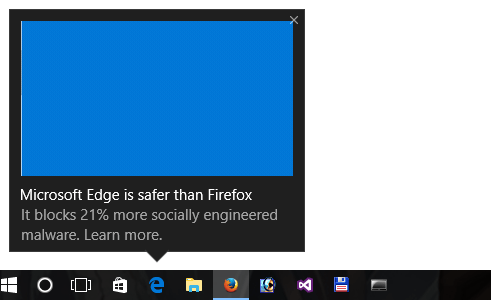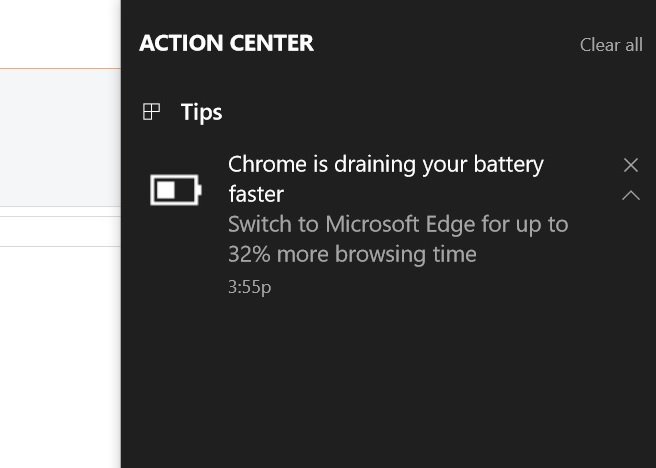 Earlier in July Microsoft had informed Chrome and Firefox users about the Battery draining issues associated with these browsers and that it is better and safe to use its new Edge Browser for Windows 10.
The Microsoft spokesperson confirmed that "these Windows Tips notifications were created to provide people with quick, easy information that can help them enhance their Windows 10 experience."  The spokesperson also added that Windows 10 users can always change default settings and preferences, including turning off these notifications in their system's settings by going to the Settings app => System => Notifications => Disable "Get tips, tricks and suggestions as you use Windows".
Microsoft earlier had emphasised that Security is of utmost importance in browsers, and Edge is actually quite secure. For a long time now, Microsoft has been pushing the envelope in security, and it's understandable the company wants to highlight that with the Notification Tips.