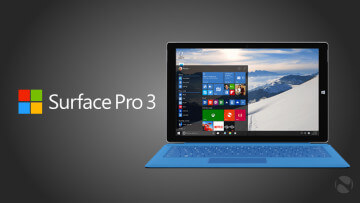 Microsoft yesterday pushed out a new firmware update for its Surface Device Pro 3. The Last Firmware update to be pushed was in August 2016. Since the last firmware update the customers have had lot of issues with the battery.
The company was aware of the issue and was working on a fix for the battery issue. Yesterday the company rolled out a new firmware update for its Surface Pro 3 fixing the battery drain issues noted by lot of users. Below is the detailed changelog:
In a more detailed explanation of the cause of the problem, Microsoft said:
On a limited number of Surface Pro 3 devices, an error condition occurs that causes the full charge capacity of the battery to be misreported to the operating system and device firmware. When this condition occurs, the system no longer charges the battery to its full actual capacity, and the Surface is unable to function on battery power.

Think of this like a fuel gauge in a car, where the car looks to the fuel gauge to determine how much to fill the tank. In this case, if the fuel gauge isn't working right, the car would also not be able to fill the tank—even though the tank is fine.
It said that its latest firmware update "allows the Surface to once again leverage the maximum charge of the battery", adding:
Once this fix is applied to a Surface Pro 3, the reported full charge capacity will self-correct over the next several charge and discharge cycles. Surface Pro 3 devices that previously experienced the problem can now operate on battery power, and the issue won't occur on devices that haven't experienced the issue.
To install the update, go to Start > Settings > Update & security > Windows Update, and select Check for Updates. This should bring up System Firmware Update – 11/7/2016, allowing you to install the update.
Microsoft also emphasized that the batteries in affected tablets "weren't damaged in any way". The company also said that to ensure "the most reliable operation", the new update should be installed on all Surface Pro 3s, but added that "the new battery driver logic will only take effect on the limited number of Surface Pro 3 devices impacted by this issue".
If any of our users are using a Surface Pro 3 and had issues with the battery then you can go ahead and grab the Firmware Update..Do let us know if the update does fix the battery issues reported by users.