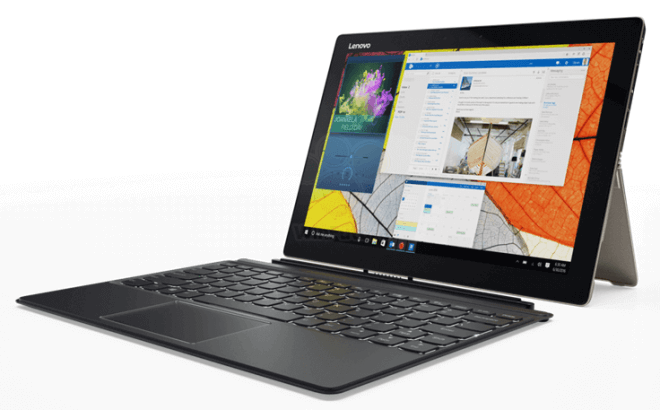 Microsoft had introduced the new Surface Book i7 at Microsoft Event. The Redmond giant would update the Surface line next year. The PC giant, Lenovo is gearing to launch a new Surface clone, the Miix 720.
The German website, Winfuture.de leaked the (render) images and full specifications of the unreleased Lenovo Ideapad Miix 720. With the Miix 720, Lenovo would be looking to compete with the unannounced Surface (Pro) 5. However, it doesn't seems to be an Surface (Pro) 5 killer as the specs aren't really good to compete with upcoming Surface devices.
Lenovo Ideapad Miix 720 is powered by Kaby Lak processor. There would be i3, i5 and i7 variants. The device is clocked at 2.4 and it could be 3.5 GHz with turboboost. The storage option varies from 128 to 1024 GB storage. It comes in 4-16 GB RAM variants.
The Ideapad Miix 720 packs 12 inch display with high resolution of 2880×1920, covered with Corning Gorilla Glass 4
Lenovo Ideapad Miix 720 Full Specifications, Price and Release Date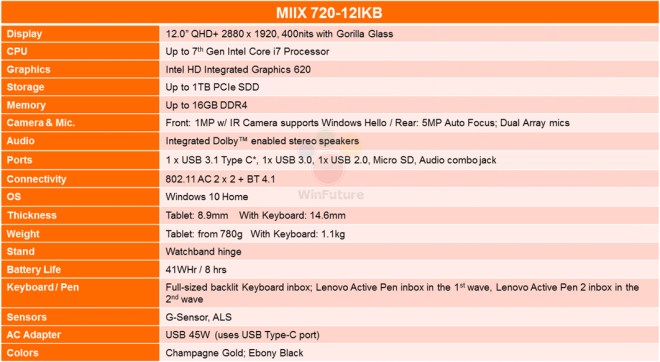 The comes with a large 5319mAh battery. It has support for USB type C, USB 2.0 and USB 3.0. With the thickness of just 8.9 mm, Lenovo's Ideapad Miix 720 looks good but it wouldn't be a powerful competitor to Surface (Pro) 5.
It will cost around 1000 Euro. We are not sure when the company will release the Miix 720, however it would be pretty soon, Lenovo maybe looking for holiday season for the release of Miix 720.
Do you think Ideapad Miix 720 would be a Surface 5 killer?