Update: The Video Call option released by the WhatsApp team is only available currently for Windows Phone Platform only. The Video call option has not yet been released to users on Android and IOS. Hence if you are trying to have a Video call with friends on IOS and Android you might end up unsuccessful.
Original Article:
WhatsApp team is working very hard on improving the application for Windows phone. Yesterday the team pushed out an update to it's Windows Phone and Windows 10 Mobile app bumping to latest version 2.16.260.
Below is the changelog
Video call option now visible in calls menu page.
Removed the all contacts option.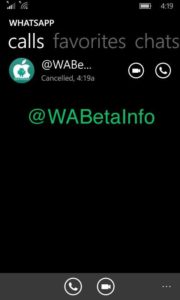 Note: To get the video call option you need to uninstall and re install the WhatsApp beta.
Currently the people who can enjoy the video call is the people having Front Camera, people without a Front Camera will have the option disabled in the call menu, atleast for me since my mobile does not carry a Front Camera.We need to wait and see if it disable for all or people without Front Camera.
The update is currently live and if you haven't yet taken then you can do so by clicking on the below link.
Do let us  know if any of our readers have been successful in making a video call.
Download WhatsApp Beta for Windows Phone