Earlier this year we reported that some kind of evolution for Outlook.com was coming soon. The day is today, and Microsoft announced the new Outlook.com Premium preview program, and it's open to public in the US. Anyone can now sign-up for this program on the dedicated webpage.
Of course, it's a "premium" version of Outlook, which means it has its costs. Indeed it costs $19.95 for the first year alone and later on it will cost you $49.99 per year.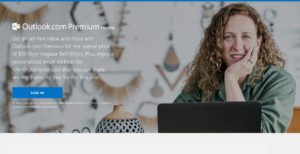 Here are just some of the features of Outlook.com Premium:
Five personalized email addresses: Get personalized email addresses likemichael@smithcrew.com* for up to five people. Your new email syncs with your existing Outlook.com mailbox, so there's no additional setup.
Staying connected has never been so easy: Share calendars, contacts, and documents with ease. Sharing relationships are set up automatically between the people who have email addresses on your domain.
An ad-free inbox: Outlook.com Premium has no banner ads, so you can enjoy a distraction-free view of your email, photos and documents.
Powered by the new Outlook.com: Gain aess to a new, modern inbox that includes enhanced security, privacy, and reliability features. Outlook.com gives you new ways to collaborate, manage your time, and get things done.
The custom email domain name is provided by GoDaddy, so domain names are subject to availability and GoDaddy's terms.