In the latest build flighted from Microsoft Labs, the 14946, for both PC and Mobile, there's a new option in the mobile version of Microsoft Edge, that should allow you to select your default web browser. The button itself doesn't do much now, and if you click on it, it'll just open the Settings app.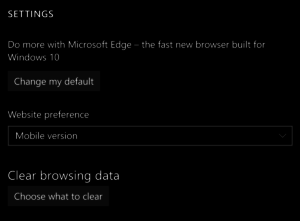 Given that is one of the most asked features to be implemented, people at Microsoft may have decided to step forward to it, but it could just be a UI glitch or something happened by accident that, given the strict shared code base between PC and Mobile, made this button pop out in the Edge's settings page. Anyway, this is just one of the new features flighted with 14946, so go check our article about the new build!
Have a nice weekend everyone!