The well known analytics company AdDuplex published its latest report for the current month, revealing surprising new statistics.
The most interesting news is that Windows 10 Mobile is yet powering the 14% of the global Windows Phones market, though it didn't see any growth this month.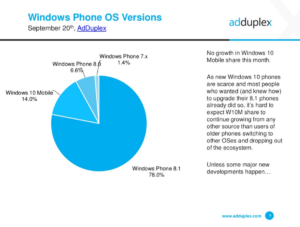 As the caption mentions, all the Windows Phone users who wanted to update to Windows 10 Mobile probably already did, so doubtful the share will grow, unless a mayor change occurs. The main problem is that most of the users are not aware of it, due to (in my opinion) a poor advertising campaign, which is not letting user know about the major update being available. Another problem is that Windows Phone 8.1 does not target the Windows 10 Mobile update unless you use the Upgrade Advisor to make it work.
Let's look at the bright side now. In fact, looks like the Windows as a Service strategy is working. For example, 82.4% of Windows 10 Mobile users are already running the Anniversary Update. This is also slowly happening on the Desktop, with the increase to 34.5% of Windows 10 PC running the Anniversary Update.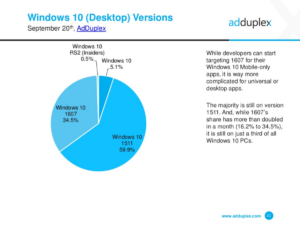 My guess is that the share of Anniversary Update will significantly grow within the next month as Microsoft plans to finish the rollout of the 1607 version by November. Anyway we'll have time to see.
What do you think about it?