WhatsApp team has been hard at work to improve the Windows Phone version.The company yesterday released an update which brought the OneDrive BackUp feature to the App.
The company has now released a new update to its Beta App bumping the app to version 2.16.208. The new feature added is
" You can see a camera button added on the Chats Page on the Left Side of the Grey Bar"
Please see the screenshot below.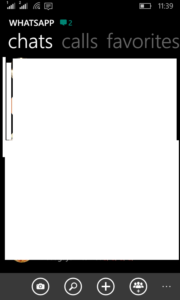 The team has made it easier to use the Camera Button from the Chats Profile page instead of clicking the attachment symbol and selecting the Camera Button
The update is currently live and you can grab it by clicking on the link below. Do let us know if you find any new feature apart from the above.
Download WhatsApp Beta for Windows Phone and Windows Mobile 10