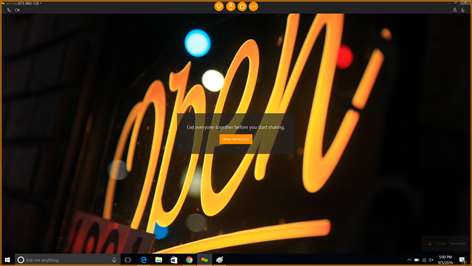 Join.me is a Classic Win32 App which is now available for Download in Windows Store. The App is a Ported App via Microsoft's Project Centennial which is not yet a UWP version and is only available for Windows 10 PC's and Tablets.
Project Centennial gives options to developers to port their Classic Win32 Apps to Windows 10 but which will not be a UWP app and work only on PC's and Tablets.
The first version  2.15.43427.0 includes the following features:
Share screen
Remote control of PCs
Presenter exchange (per)
Add Comment (per)
Recording (per)
video conference
VoIP Conference
Telephone Conference (per)

App Description

When you start your join.me meeting, simply press the "Broadcast" button and you're ready to go. It's that simple. If you're a join.me PRO user, you can share just a single window instead of your whole screen. Simply hand over the presenter role to any of your participants so They Can broadcast Their screen with full control. With annotation your whole team can mark up, highlight and even use laser pointers to highlight stuff right in your meeting to make a point, make a difference, and make
This app is currently available for download for Free but with limited features, to have access to all the updated features the app is available for download for 10 € / month.