We all know that there are many fans of the Windows ecosystems out there, and some of them are graphic designers. One of them is Krum Cvetkov, a designer from eastern Europe that picked up an idea from Microsoft. We are being told that Windows 10 and Windows 10 Mobile share the same resources and they even are the same OS, but unless you deep dive into the system, you won't say it's the same. The idea of having the same interface and same UI paradigms was in the plans for Windows 10, but as of the Anniversary Update, looks like the Mobile SKU of Windows 10 is influencing the Desktop one (eg. Start screen tiles, UWP, Action Center).
Krum made a concept showing how a Microsoft could build a taskbar into Windows 10 Mobile to make it look exactly like the one on desktops.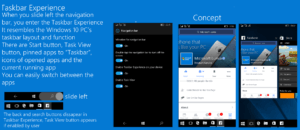 The concept itself is great, the left-aligned Start button would replace the central start button, the task view button would replace back press and hold for app switching, and the Search button which most of the users don't really love disappeared. Anyway Krum made a good job, even though it's up to Microsoft to make something like this and/or something even better.
If you're interested, Krum has some great concepts and designs on his Behance page which you can check out. Have a great day