Yes, you read it right! Might sound a little strange, but a new patent was published today from Samsung shows a new smartphone running both Windows and Android simultaneously.
Looks alot like Android multiwindow tasking, but as of the patent, we can see that swiping up you can bring Windows on and make them both work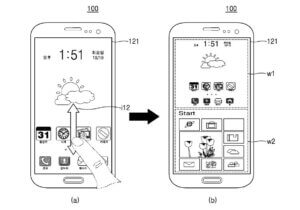 We don't know much more about it, but looks like this smartphone can switch between Android and Windows just like any other app, moving files and sharing resources across the two systems. Talking about tech stuff, to run both the systems this device should have a powerful chipset that can sustain flawlessly the OSs.
Anyway, it's just a patent, so don't get too excited. Might take years to come and it's not even sure that it'll ever reach production.