If you think Windows 10 is not a popular OS with less market share then you might be wrong. LG has taken the popularity of Windows 10 OS to new heights. The company is currently testing its latest Refrigerator which runs Windows 10 with Cortana and which has a 21-inch Translucent touch screen.
The company had recently displayed the product at the IFA industry expo in Berlin. The LG refrigerator will be competing with the already available Samsung Refrigerator with similar 21.5-inch touch screen.The LG refrigerator runs Windows 10 with Cortana voice support.
Here are the features of the LG Refrigerator:
Its display has a Instaview panel with a nifty trick up its sleeve. With a knock on the glass, the screen turns translucent, allowing you to see the contents of your fridge without opening the door.
The 'window' in the refrigerator has a full touchscreen panel on which users can interact with Windows 10, along with dedicated LG apps accessible from the Start menu.
You also have the option to drag and drop icons in line with the food stored inside. Now given that it's a Windows 10 device, it runs Windows Store apps,so you can play some tunes in Groove Music while you're cooking or loading up the dishwasher.
The most important feature is the presence of support for Cortana voice controls.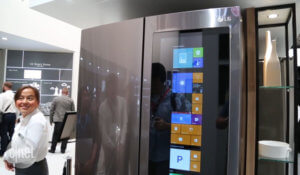 Currently the company has not disclosed any details as to when the product will be in the US and other markets along with its pricing. We can be rest assured that the product developed by LG might not be available by end of this year or even early next year.
We will keep you posted once we have any information on the pricing or availability of the latest product developed by LG with Windows 10 and Cortana support.
Do let us know your views in the comments below about the latest product developed by LG with Windows 10.