On Wednesday, Reliance Industries Limited (RIL) chairman Mukesh Ambani conducted Annual General Meeting (AGM) in Mumbai and announced the Reliance Jio service.
The services — including including voice, apps, 4G data service will be available for free for a limited as Welcome Offer. The Jio Services will be available for free from September 5th to December 31 2016.
Mukesh Ambani said, "Jio makes India the highest quality and lowest data price market in the world, you will pay only Rs 50 for every GB that you use. The more data you use, the lower the rate."
You will be able to make calls for free, no need to pay any money. There is no roaming charges withing India. The 4G Data service is as cheap as Rs 50 per GB that is roughly 1/5th of what rival networks offering. As of now Jio will have only 10 plans and company may introduce new plans in near future. Students will get 25% more data. The company is promising peak speed upto 135 MBPS. Reliance Jio is not limited to 4G services, it is also ready for 5G or 6G.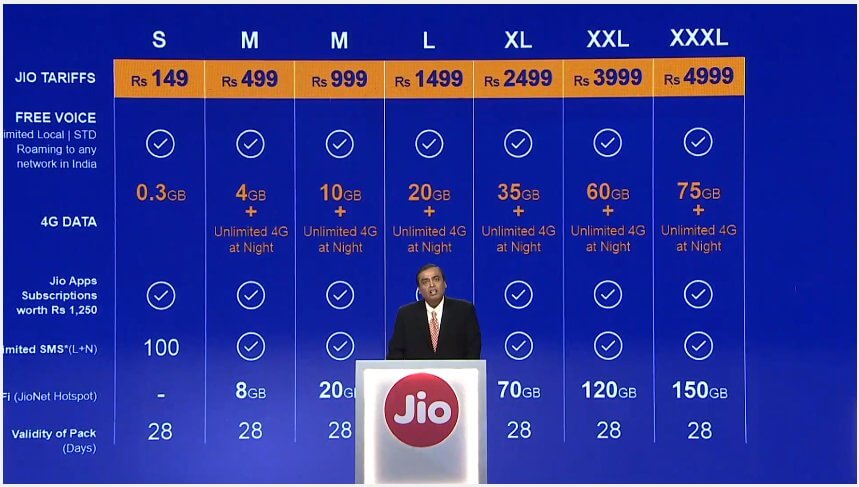 Reliance Jio Tariff and other details:
5 paise per MB, you can get 1GB for Rs 50
Plans starts from S to XXXL
For 149 Rs you will get 0.3GB Data and 100 free 100 SMSes
For 499 Rs you will get 4GB 4G data along with unlimited 4G Data at night
The other plans priced at Rs 999, Rs 1,499, Rs 2,499, Rs 3,999 and Rs 4,999
You will get free access to Voice calls and apps including — JioPlay, JioOnDemand, JioBeats, JioMags, JioXpressNews, JioDrive, JioSecurity and JioMoney.
Charges are applicable after December 31st.
Free Voice calls
Jio apps costing Rs 15,000, availble for free until 31st December
It will be available in select cities
If you own Aadhaar card, walk out to Jio Store and get working connection in 15 minutes
I believe these are the absolute lowest data rates anywhere in the world – Mukesh Ambani
The free SMSes services will be available in occasions like Diwali unlike other networks which blackout days. You can signup for Reliance Jio service on Monday. If you have any questions feel free to ask in the comments below.