Microsoft yesterday removed its Official Facebook App for Windows 10 Mobile from the Windows Store. The app has been removed from the store after the availability of the Official Facebook App developed by Facebook Inc for Windows 10 and Windows 10 Mobile.
The Microsoft Facebook App no longer is available in the store and on searching you will find the Official Facebook App developed by Facebook.
The people who have the Microsoft Facebook app installed on their devices will be getting the below message when trying to access the same.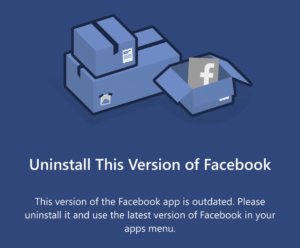 The official Facebook App developed by Facebook is now available for Download along with the Official Facebook Beta App.
The app is not yet crispy to load and crashes quite often especially on devices with Lower RAM. Since this is an IOS Ported App does not quite work smoothly on Windows 10 Mobile. Hopefully the company is trying to fix the crashing issues with the app and make it more crispy and usable for Windows 10 users.
Download the app by clicking on the link if you haven't yet downloaded the official App.