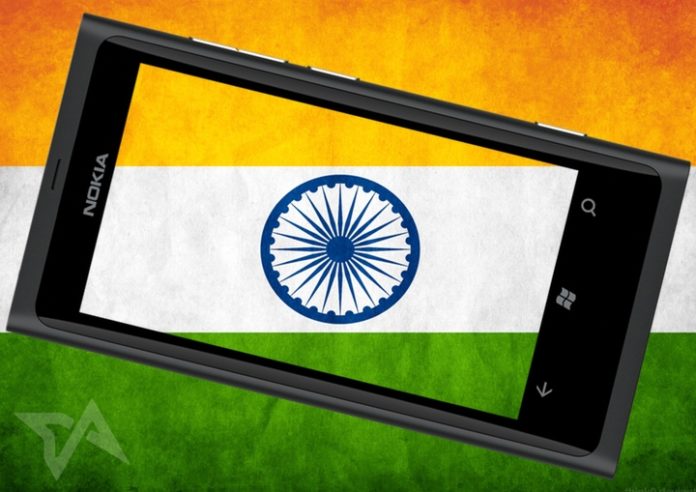 A new report from Strategy Analytics claim that Android smartphones now own almost 100% of the Indian smartphone market, 97.1% to be exact, up from 90% a year ago.Th
Below is the break up from Strategy Analytics report showing Windows Phone market share falling below 1% (0.5% to be exact). The report clearly shows the Dominance of Android in India Markets and the decline of IOS and Windows Market share.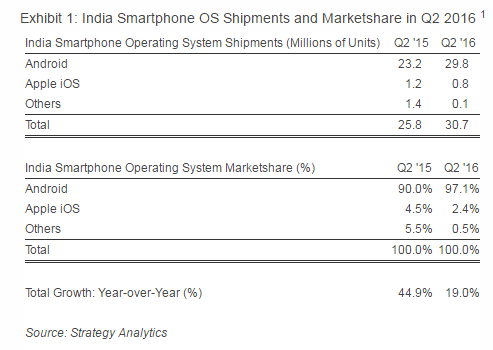 Over the years there has been lot of competition from Apple and Android for Windows Phone. However last couple of years has seen the sales of  Apple also on a decline compared to that of Android. The competition from Android has been so huge that it has hit the profits of iOS and Windows Phone which saw losses for both the Companies. iOS dropped from 4.5% to 2.4% of the market, selling only 0.8 million handsets while Windows Phone share has fallen below 0.5% market share.
Indian Market which is the biggest and the third largest market for Smartphone sales, after China and the US, is growing quickly due to its low smartphone penetration rates with a big chunk of purchase coming from middle class, and intense competition among major vendors, retailers and operators.
Strategy Analytics have also noted that the smartphone market has grown 19% YoY but the dominance from Android in Indian Markets looks unbeatable with close to No Competition from other two Operating Systems.
The Main advantage for the dominance of Android has been its huge portfolio of hardware partners and the costing of its Smartphones which are generally lower compared to Apple suiting the India Middle Class, which is expanding and depending more on Smartphones for daily use than PC and Laptops.
It will not be long when Android becomes the Single Dominant Operating System completely wiping out Apple and Windows OS from the Indian Markets.
However there is still hope with the Microsoft's new strategy of Universal Windows Platform and Continuum. Based on the Microsoft Latest UWP strategy there have been lot of new Mobile Phone manufacturers like Lenovo, BLU , HP, Nuans to name a few, who have been working on building a Windows 10 Mobile and HP is in process of launching its Flagship phone in the Indian Markets sooner than later.
The launch of Windows 10 Mobile Smartphone from Big players like HP and Lenovo might be able to give a big boost in improving the market share of Windows Phone, since HP  and Lenovo are well Known players in PC market and the Launch of a Windows 10 Mobile would improve the companies chances of improving its market share in the coming months.
But there is a long rope ahead for Microsoft to come close to or on par with Android and Apple.
So what do you think should be the company's strategy with UWP and Continuum to improve its Market Share which has been on a steep decline YOY, shout out in the comments below.