Microsoft's own search engine Bing is now expanding its predicting technology to e-Sports. While we have the Rio 2016 Summer Games happening now, the competitive video gaming has its own "Olympics" and is also happening this week. Valve's Defense of the Ancients 2 (DotA2) runs an annual tournament called The International where all the best teams from all over the world face each other to win a prize pool. Last year, The International 5 recorded the highest prize pool ever in the history, both sports (including Tennis, Football) and e-sports with a whopping 18-million US dollars. This year's The International just beat its own record with a 20-million US dollars prize pool.
So why DotA 2? As the blog post says:
Bing Predicts is expanding into eSports predictions, starting with one of the biggest tournaments of the year: Dota® 2's The International 2016. Our predictions are live now and you are welcome to check them.
Competitive video gaming, aka eSports, has taken the world by storm in the past few years. Video games have become not only something to play, but also to watch. In early 2014, Twitch.tv, streaming platform for video games, ranked 4th in peak internet traffic, ahead of Facebook and Hulu

1

.
So who will win?
Bing predicts OG, Evil Geniuses, Wings, and EHOME in the final four with EHOME as the The International 6 Champions.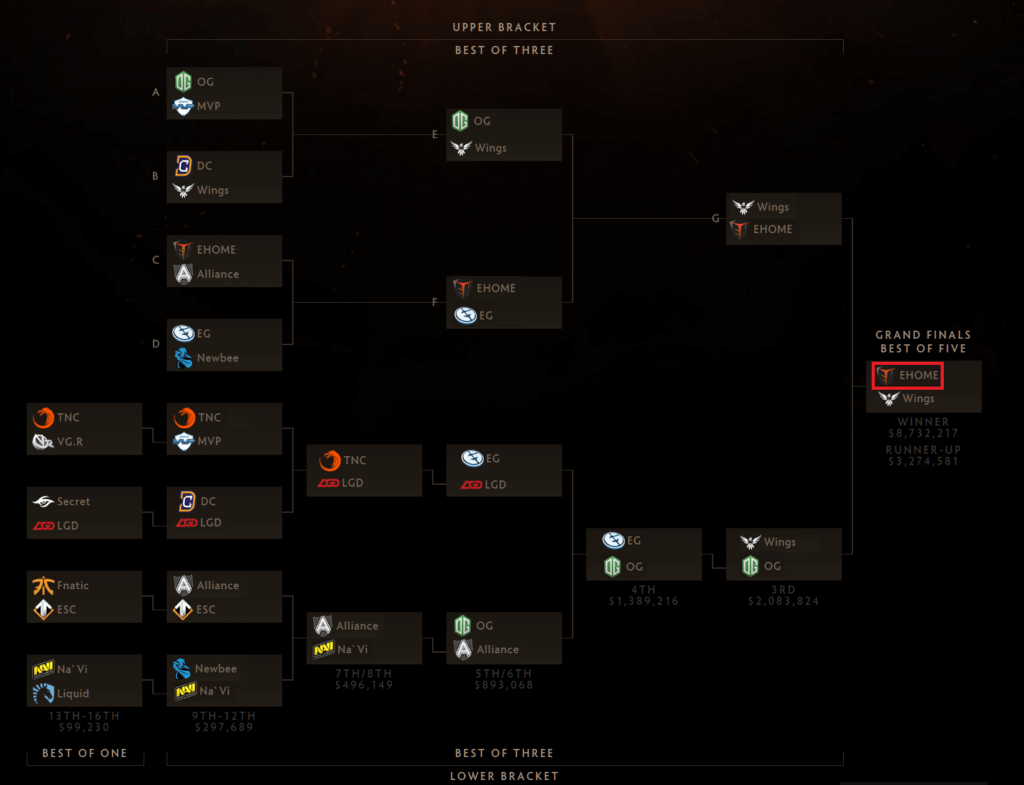 What's the outlook for the rest of the tournament? Bing predicts EHOME to win and take home the $8.7M grand prize. On their way to victory, EHOME will beat Alliance in the Upper Bracket Quarter Finals, win over defending champions Evil Geniuses in the Semis, and defeat Wings Gaming in the Upper Bracket Finals and again in the Grand Finals (Figure 2).
Day 1 is over. So let's compare the predictions and the actual results.
OG vs MVP Phoenix
Bing – OG
Actual – MVP Phoenix
TNC vs ViCi
Bing – TNC
Actual – TNC
DC vs Wings
Bing – Wings
Actual – Wings
LGD vs Secret
Bing – LGD
Actual – LGD
Fnatic vs Escape
Bing – Escape
Actual – Fnatic
Na'Vi vs Liquid
Bing – Na'Vi
Actual – Liquid
Bing Predicts got 3/6. Well, not bad for a first timer!