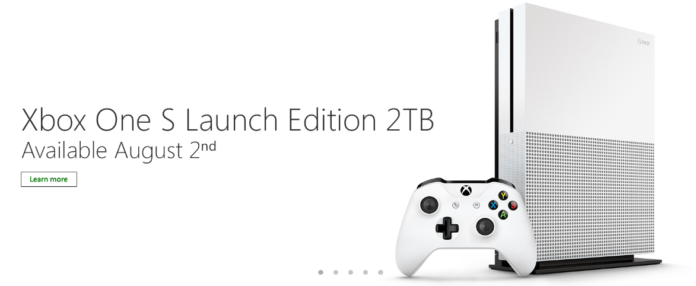 The Xbox team announces the availability of the new member of their product line, Xbox One S on August 2. For those who pre-ordered, the most compact Xbox One yet will be on your hands by the said date.
Beyond the fresh new design, Xbox One S is the first and only console that allows you to watch Blu-ray movies and stream video in stunning 4K Ultra HD with High Dynamic Range (HDR). That means you'll get to enjoy your favorite shows and movies in the clearest, most realistic video possible. With HDR support for video and gaming, Xbox One games like Gears of War 4, Forza Horizon 3, and Scalebound will look even better thanks to a higher contrast ratio between lights and darks, bringing out the true visual depth of your favorite games.
It will be available on select markets including Australia, Austria, Belgium, Canada, Czech Republic, Denmark, Finland, France, Germany, Greece, Hungary, Ireland, Italy, Netherlands, New Zealand, Norway, Poland, Portugal, Slovakia, Spain, Sweden, Switzerland, Turkey, UK and United States.
They will also sell the new Xbox One Controller for US$59.99 which features textured grip, improved wireless signals, and Bluetooth support. Note that Bluetooth support requires Windows 10 Anniversary Update to work.
There are three storage options for the new Xbox One console:
2TB – US$399.00
1TB – US$349.00
500GB – US$299.00