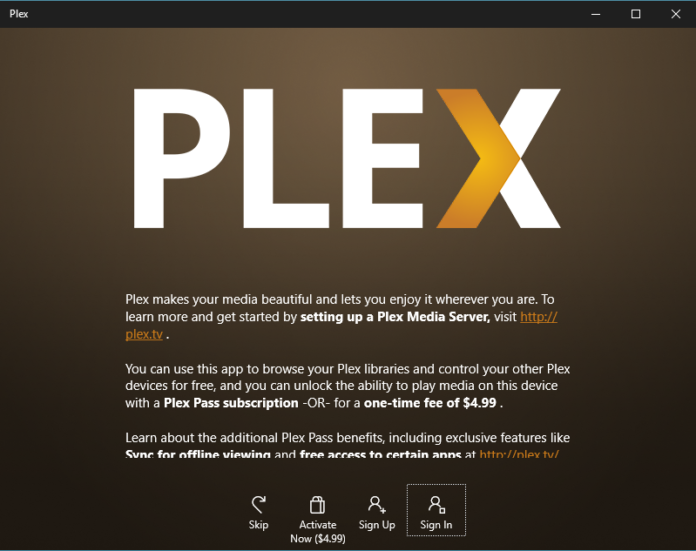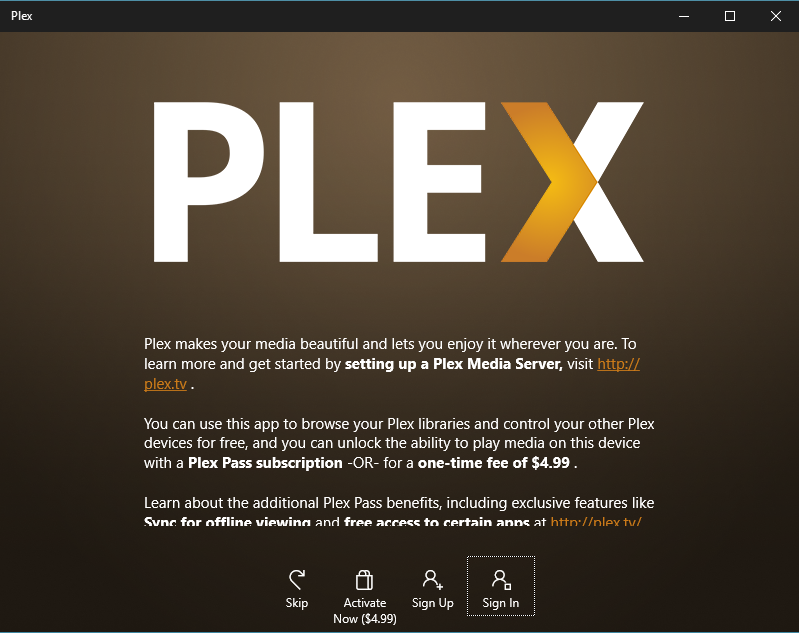 Today, Plex Developer Team announces the release of their brand new app for Windows 10. The app was re-written for Windows 10. The app takes advantage of Windows 10 features like Cortana and Continuum (mobile). It also features Hubs and Discovery.
Here's the announcement: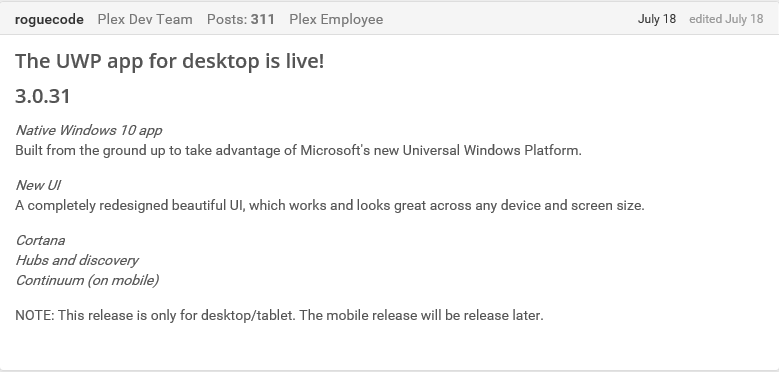 App Description:
Plex organizes all of your video, music, and photo collections and streams them to all of your screens. See http://www.plex.tv for more details.
Enjoy unlimited use of the free version of this app, and unlock its full functionality with a Plex Pass subscription -OR- a small one-time in-app purchase (see below).
IMPORTANT: In cases where you have trouble, we're interested in assisting through our forums (https://forums.plex.tv/), so that things can be investigated and resolved to benefit all users.
Free functionality
• Unlimited playback of on-device video and photos.
• Fling unlimited photos and videos from your Plex Media Server (available for free at https://plex.tv/downloads) and the Camera Roll on your phone or tablet to other supported Plex apps, such as Roku, Android TV, Fire TV, and Plex Home Theater (coming soon to Xbox One, Playstation, and other apps). Limitations of the free app
• Playing media from your Plex Media Server on the device running this app is limited (one minute for music and video, watermark on photos) until the app is unlocked. Unlock full functionality
• Unlock unlimited streaming to your PC or tablet with a Plex Pass subscription that includes many other premium features (available at https://plex.tv/plexpass) -OR- a small one-time in-app purchase. Here's a small taste of more things that Plex does to make your media experience awesome:
• Plex makes your media beautiful with artwork, rich metadata, and related content. • Plex automatically converts your media on-the-fly to play on any device. • Easily share your media with friends and family.
• Plex Pass feature: Sync media to your phone or tablet for offline viewing. • Plex Pass feature: Sync media to your favorite cloud provider including Google Drive, Dropbox, and Box, so you can stream media even when your server is offline.
• Plex Pass feature: Online Trailers and Extras for the movies in your collection!
• Mark online videos from sites like Vimeo and YouTube to be able to 'Watch Later' on your Plex apps. Getting up and running is easy, install the FREE Plex Media Server now (https://plex.tv/downloads)!
NOTE: PLEX FOR WINDOWS IS CURRENTLY NOT COMPATIBLE WITH GOOGLE CHROMECAST. YOU MUST HAVE A PLEX MEDIA SERVER (AVAILABLE FOR FREE AT https://plex.tv/downloads) INSTALLED AND RUNNING TO STREAM MEDIA TO THIS APP. SERVER VERSION 0.9.8.14 OR HIGHER IS REQUIRED. DRM-protected content (such as video from the iTunes store), ISO disc images, and VIDEO_TS folders are not supported. DTS audio and some subtitle formats (as well as MKV containers and FLAC music on Windows 8.1) are not supported for Direct Play, and will be transcoded. Connecting to a Plex Media Server on the local machine requires a loopback exemption due to Windows application sandboxing.
Note that when you visit the app in the Store, you will still see the Windows 8 app version. Go ahead and install it, you will be greeted by the brand new app!