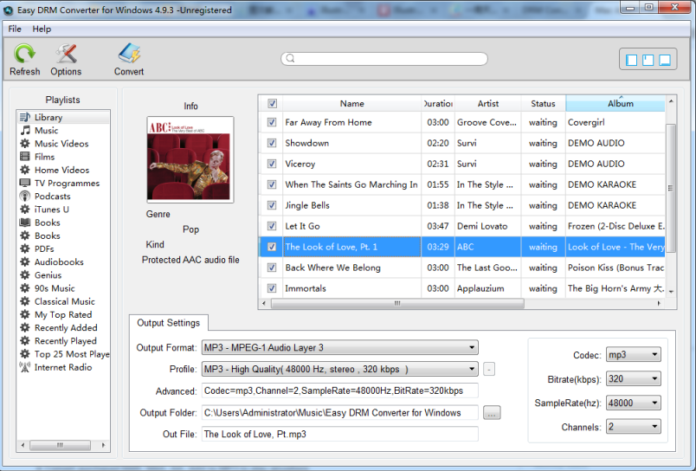 Easy DRM Converter is an easy and legal method for converting DRM protected music like iTunes media file such as music, video, audiobook to normal audio formats like MP3, M4A, AAC,.  You would be able to play musics on many different devices like PCs, mobiles and most media players. You won't care about the compatibility of audio formats any more.
The Easy DRM convertor supports almost all Music Formats like  AAC, AC3, MKA, AIFF, AU, FLAC, MP3, M4R or M4A and more. The quality of the audio is preserved in such a way that after conversion you get the feeling that the Audio is actually an MP3 file, generally after convertion you actually loose the originality of the quality of the song or music, but with Easy DRM Convertor the originality of the song or music is retained.
Above all the converted music through the DRM convertor is actually compatible with all or any device.With EAsy DRM Convertor you can easily and effortlessly convert a large collection of iTunes music. As it is compatible with most of the Music Formats the convertion speed can be upto 16 times speed faster while converting.
The DRM convertor is easily and fully compatible with Latest Version of iTunes and it allows you to get a quick and easy access to the Apple music library.For converting music files through DRM you need not have any kind of Technical Knowledge. Once you install the software on your PC the Interface is so easy and Intuitive that it makes it easy for anyone or everyone to convert through DRM convertor. It gives you options to customize output audio parameters, number of channels, allows editing the metadata for existing audio files and more.
There may be people who might actually not know what is DRM…Well for their benefit DRM means "Digital Rights Management" .DRM is a set of access control technologies, like copy protection technologies that are usually used by hardware and software manufacturers, publishers, copyright holders with the intent to control the use of digital content and devices. To be more specific DRM is a Restrictive Licensing Agreement which are entered to control the copyright and public domain. Some restrictive licenses are imposed on consumers as a condition to enter a website or download software. This kind of technology is designed to control access and reproduction of information which also includes backup copies.
TO get access to the controlled copyright you have a DRM Removal Software which is a shareware software released in 2007 which allows to convert iTunes, WMA, WMV and other DRM protected video and audio formats to unprotected analogues. The Software runs on Windows XP/ Windows XP x64/Windows7/Windows 7 x64/Windows Vista/Windows Vista x64 and the trial limitation is 90 seconds of audio and 180 seconds of video conversion. It also allows high speed conversion meaning it can remove DRM from up to 16 audio files at one go.
The internet media's DRM is a great anti piracy technology but leads to lot of inconvenience to consumers that have legally purchased media online.So does this mean that the consumers who have purchased the media online cant convert DRM protected files.
Well you have one DRM convertor namely Easy DRM Converter Converter which is a powerful yet easy-to-use DRM removal and media conversion software that enables you to remove DRM restrictions by converting (re-encoding) your encrypted videos & audios to open, plain file formats. The output file's quality differs with the original's in very few cases. Just launch this DRM Removal software, and in a few minutes you will produce DRM-free video & audio files that you can enjoy, edit on practically any capable multimedia device, editing program.
If you are facing issues in converting music due to DRM, then you can click on the below link to download the Removal Software.
Do let us know your views in the comments section below.