After releasing the Official Messenger App for Windows 10 and Windows 10 Mobile,  Facebook is working on introducing Video and Voice Calls for All Windows 10 PC and Tablets.
The Video and Voice Calls is not yet active for all Windows 10 Mobile users, but the company is in process of testing the same for PC and Tablets and we hope after successful testing of the feature, the same will be released to All Windows 10 PC and Tablets along with Windows 10 Mobile at the same time.
Please find the screenshots below for Preview of Facebook Messenger Calls for Windows 10.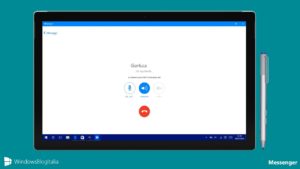 Note: The option of Voice and Video Calls might be a server side update, hence we might not get any App update for the activation of Voice and Video calls. The same could be expected in coming days to all.
SO what do you think of the Messenger on PC with Voice and Video Call option let us know in the comments below.