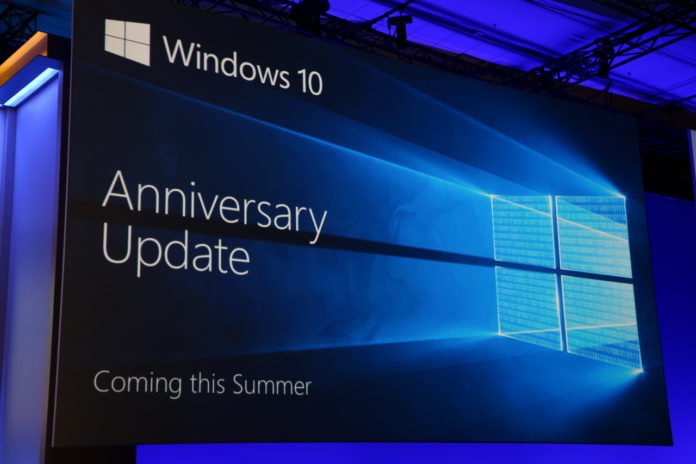 Microsoft has just announced that Windows Anniversary update is coming to public on August 2nd.
Windows Anniversary for Windows 10 brings major new feature such as Extension Support for Windows 10 along with Cortana improvements and much more.
Today we're excited to announce the next major update to Windows 10 – the Windows 10 Anniversary Update – is coming on August 2.
Windows Anniversary update will be available for all Windows 10 Devices this August 2. Microsoft advises users to upgrade their PC to Windows 10 before July 29, as you can get Windows experience for free without paying any single cent.
Here are some major changes coming with Windows Anniversary update:
Additional Security Features for the Most Secure Windows
Windows Ink Brings the Power of Windows to the Tip of Your Pen
Cortana Helps You Be More Productive with the Windows 10 Anniversary Update

Cortana is now available above your lock screen so you can do things like ask questions, play music from your PC or set a reminder without unlocking your device.
Cortana can save and recall key information, like your frequent flier number or where you parked at the airport. You can also add photos to make your reminders visual, like a photo of a bottle of wine you enjoyed at a restaurant.
Cortana can give you notifications across all the devices you have with Cortana – like sharing directions across devices or from text or messaging services on your phone.

Microsoft Edge Helps You Do More with Increased Power Efficiency, Extensions and Accessibility

Building on strong power efficiency already available in Microsoft Edge, the Anniversary Update includes even more power-saving improvements, using fewer CPU cycles, consuming less memory, and minimizing the impact of background activity and peripheral content. Microsoft Edge lasts three hours longer than Google Chrome—long enough to finish the final movie in your favorite trilogy.
Microsoft Edge Extensions, such as Pinterest's "Pin It Button," Amazon Assistant, AdBlock, AdBlock Plus and LastPass, will be available in the Windows Store with the Anniversary Update to add features to your browser and personalize your experience.
A new accessibility architecture for Microsoft Edge supports modern web standards, including HTML5, CSS3, and ARIA. With the Anniversary Update, page structure and content are now exposed more clearly with assistive technology. Visual presentation of web pages in high contrast mode is greatly improved to provide additional visual context, while preserving text contrast. Also, form entry when using keyboard navigation and screen readers improve in this update making the browsing experience for people of all abilities better.

Gamers Stay Connected and Enjoy More Games

With the Xbox Play Anywhere program, you can buy a game once and play on your Windows 10 PC and Xbox One with shared progress, shared game saves and shared achievements. Every new title published from Microsoft Studios will support Xbox Play Anywhere and will be easily accessible in the Windows Store.
Xbox Play Anywhere games will be offered within the new unified Windows Store on both Windows 10 and Xbox One. You'll be able to find the content you want faster and purchase game and app bundles, pre-orders, pre-downloads and subscriptions such as Xbox Live Gold.
On Xbox One, gamers will be able to use Cortana commands to find great new games, see what your friends are up to, start a party, accomplish common tasks and turn on your Xbox One by saying "Hey Cortana, Xbox On".
Top fan requested features for Xbox One, such as Language Region Independence (allowing gamers to choose any supported language, regardless of their location) and support for background music, will come with the Anniversary Update.
Gamers can enjoy the Windows 10 Anniversary Update on the new Xbox One S. Available starting at $299 USD this summer, with a limited 2TB Xbox One S launch edition available in August for $399 USD, it's the only console with support for HDR gaming and 4K Ultra HD video and Blu-ray.

The Anniversary Update simplifies the deployment process. Teachers can set up devices in three easy steps, even with no dedicated IT support. The all-new "Set up School PCs" app allows teachers to set up a 'Shared Cart of Devices' for their classroom.
For schools with dedicated IT support, the updated Windows Imaging and Configuration Designer tool enables them to set up shared devices, in bulk, in a matter of minutes.
Windows 10 is faster than ever, with an average first log-in of 26 seconds and subsequent log-ins of 6 seconds, helping classes with shared devices get productive quickly.
For high-stakes tests, the 'Take a Test' app creates a browser-based, locked-down environment for more secure, online assessments. This is ideal for tests that shouldn't have copy/paste privileges, access to files, or other distractions. For simple formative and quizzing needs, the app couples with a teacher's preferred assessment website to deliver digital assessments.
Learn more about all the new features coming to the Windows 10 Anniversary Update in the source link below.