Introduction
There is a little doubt that biometric passwords are the future, but right now good old passwords is the main way of protecting your data. Sometimes bad things happen – you can forget password, your friends can put password on your device just to make fun of  you, or maybe you work as IT support in your company and need to get access to employees device. Who knows. But in times like these a good password reset software comes in handy. There are various password recovery tools available and today we'll take a look at Windows Password Key.
Overview
Windows Password Key comes in four different editions: Standard, Professional, Enterprise and Ultimate. All editions have different set of features with Standard having just a basic one and Ultimate having not only password reset, but also other system maintenance features, such as Registry cleaner. Since we are interested in password reset, let's take a deeper look at Enterprise edition. Enterprise edition, which costs $39.95 for 1-2 PCs, comes with a lot of different password reset capabilities:
Remove Windows local admin and other user passwords
Reset/Remove Domain Administrator password
Reset Microsoft account password
Remove a local/Domain admin account
Create a new local/Domain admin account without login
Create a password reset CD/DVD
Create a password reset USB flash drive
Use default ISO image
Make your own computer/RAID ISO image
Support Windows 10/8.1/8/7/XP/Vista
Windows Server 2012 (R2)/2008 (R2)/2003 (R2)
As you can see from the features listed below, Windows Password Key Enterprise edition can reset or remove any Windows password. Moreover, software supports all Windows versions starting from Windows Vista. Also it supports various Windows Server editions. Therefore, if your system is Windows 10, you can try this Windows 10 password recovery tool.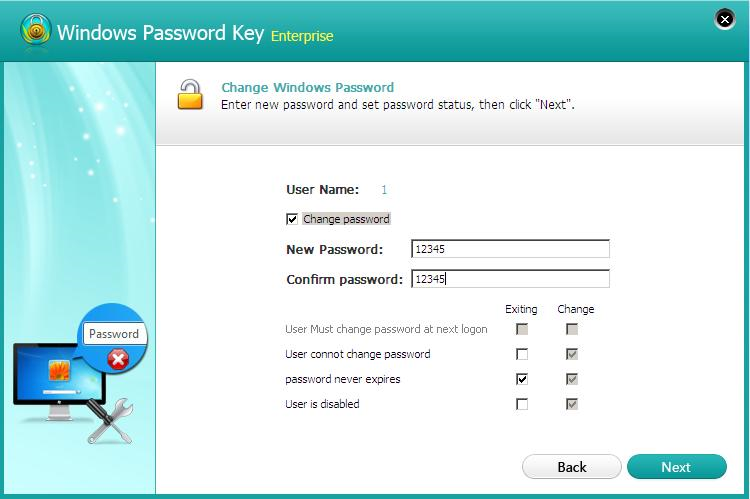 The process of resetting or removing password using Enterprise version of the software is  quite straight forward. In order to do that you have to install program, create bootable CD/DVD or USB and after booting from it follow on screen instructions to receive your goal. The software is extremely easy to use and even if you have a question about resetting or removing password, you could just head over to Windows Password Key website which includes a lot of FAQ articles and guides that will most likely address your problem.
Conclusion
As mentioned earlier, this review is based on the Enterprise version of Windows Password Key and as you can see, you will be able to enjoy powerful password reset and remove features just for $35.95. I love the fact that Windows Password Key Enterprise edition provides all the features of resetting and removing Windows password.
Try Windows Password Key software today and you won't have to worry about forgetting Windows password anymore.