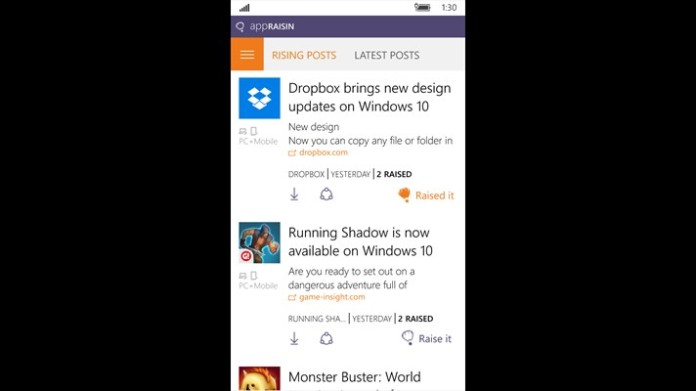 One of the most useful and beloved Windows 10 App, Appraisin grabs a major update in Windows 10 store with many new features. Appraisin posted the whole changelog themselvesin Appraisin app.
The break down denotes :
This time, we are releasing the first iteration of "Favorite apps" feature. With this you'll be able to collect your favorite apps and games, filter news to see what's happening with your favorites and get notifications when somebody posts a news about them.
 You can select/unselect your favorite apps directly from main view, news details or App Info card.
 For Developers who wants to give more visibility to their apps, we are optimizing process to do that directly from the app via In-App purchases with a special introductory pricing.
Full Change Log for AppRaisin v1.11.1
New features
* Users can select their favorite apps (from any news or App Info form)
* Users can filter all news to see only their favorite app news
* Users can get notifications when somebody posts a news about their favorite apps.
* Developers can promote their articles to Spotlight via In-App purchases
 Improvements
* News details form performance optimization
 Known Issue:
* Rising list will be missing oldest news about your favorite apps. Check Latest list to see all of them.
 Bug Fixes
* App Info page was failing to get news related to the app list in some cases
* On desktop News details page header stayed with buttons after resizing
* Edit buttons were hidden, when opening news from notifications
* Some other minor bugs
Head over the store to grab this huge update!