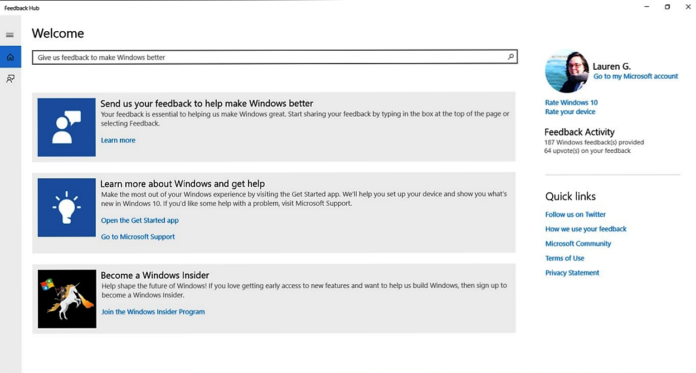 Microsoft has now released their feedback app for Windows 10 OS titled "feedback Hub" in Windows Store which allows every user to download the app to their Windows 10 Device. Earlier this app was only available to insiders running the Preview build. This means the app can be installed on Windows 10 / Windows 10 Mobile November Update (build 10586).
The feedback Hub app allows users to help Microsoft improve Windows 10 and Windows 10 Mobile by sending feedbacks about OS and apps.
The official description reads in the Windows Store:
Help us improve Windows! Send feedback on Windows and apps sharing suggestions or problems. If you want to participate even more actively, join the Windows Insider Program and stay updated with warnings and ads, builds Currency, participates in missions and get feedback badge.
Help us make Windows better! Provide feedback about Windows and apps by sharing your suggestions or problems. If you want to be even blackberries Involved, then join the Windows Insider program and keep up with the latest alerts and announcements, the rate builds, participate on Quests in feedback, and earn badges.
Download it here.