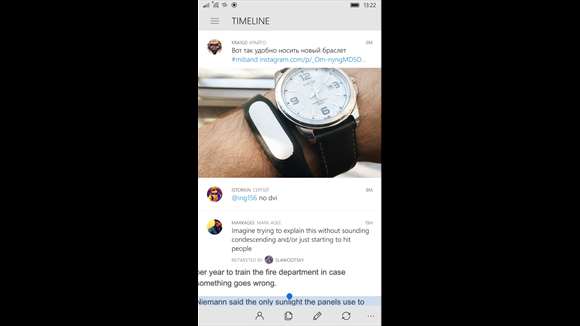 Tweet It, one of the Popular third party twitter client is receiveing a huge update in store with lots of new features and improvements. The update will hit the store in next 24 hours. Don't panic if are not getting it right now.
The detailed update is here :
Search is now more powerful with rich abilities for fine-tuning
You can now save or delete any search query
Application will save your search history and sync it across all your devices
You can now pin search queries to start screen
Improved conversation view for tweets
Small trends UI changes
Built-in browser now has it's own page in the settings
Small fixes and tweaks for built-in browser
You can set built-in browser to be closed when opening a page in a system browser
Video player will remember last set volume and will use it when started
Updated tile for profiles
When saving tweet to Pocket hashtags from it will be used as tags
Small fixes for notifications settings
When composing a tweet you can now choose profile (if you got more than one) to send it from
Added hashtags autocomplete (application will look for hashtags in your saved searches and search history)
Improved UI for mobile devices in landscape
Improved UI for Continuum
Improved UI for pop-up panels on mobile devices
Fixed refresh button visibility for mobile devices in landscape when more than one tab is visible
Added Bulgarian language
Head over the store to check for updates!