Anniversary Update for Windows 10 will be Releasing in July 2016. We also know that at the same time Microsoft will also launch the Software update of their Xbox One consoles with Windows 10 Based Xbox Store in it. Both these devices are expected to get a common universal Windows 10 Store installed. Which means that you would be install store apps on Xbox One and also see Xbox Store titles on your PC and Windows 10 Mobile Store.
Ahead of this Merger of Windows 10 Store we are getting leaked screenshots of Microsoft adding Xbox games on the store which can be seen on PC and Mobile.
Here's an image posted by OneTile.ru 's post which shows Xbox games on Windows 10 Mobile Store: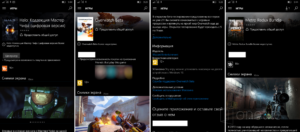 Now MSPowerUser has also confirmed this news by sharing the screenshots of upcoming store merger on Windows 10 and XBox.