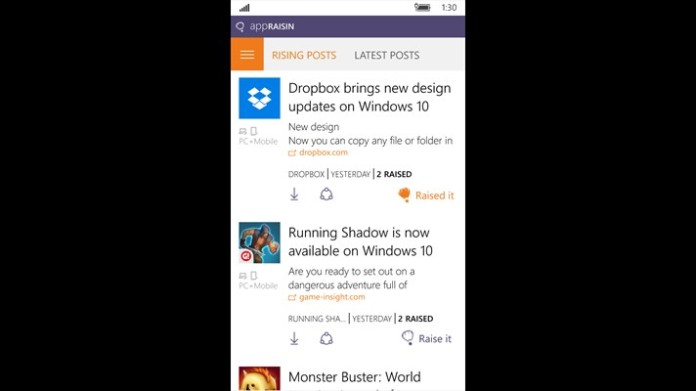 AppRaisin for Windows 10 and Windows 10 Mobile devices has been updated with comment editing feature and tons of other fixes and improvements.
The app helps new Windows 10 and Windows 10 Mobile users to discover new apps and games. In the app, everyone is requested to post news about Windows Store apps and games, and everyone can influence how far it spreads.
Changelog:
o   Edit your own news article headline and description. You can do it by pressing "pencil" icon or double-clicking your headline or description
o   Displays when news was edited last time in news details form
o   Edit your own comments and replies. You can do it by selecting "Edit comment" from more menu or double-clicking your own comment.
o   Now it will be easier to share your favorite news with your friends after publishing or raising it.
o   Request a feature button integrated in "App Info" form as well
o   Refactored error messages in a main view lists.
o   Validation error was staying even when you started updating it in Create account form
o   Users were getting success notification about pinned tile even if users have canceled it in OS dialog
o   Fixed issues with Profile picture update. Error messages was not displayed correctly
o   Fixed issues with switching-off push notifications
o   Other small fixes and optimizations
---
The Latest version of AppRaisin is v1.10.1 and you can update the app by clicking here.