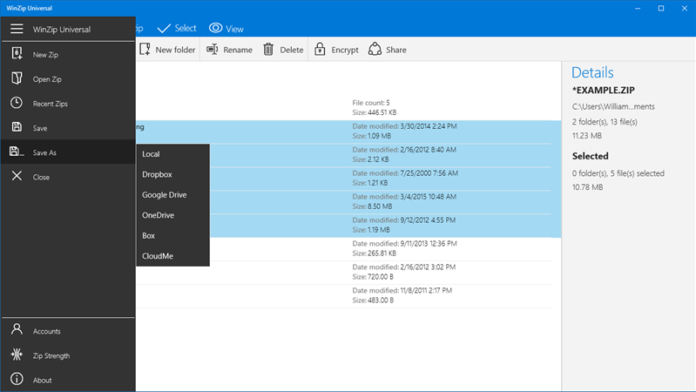 WinZip has introduced an all-new WinZip® Universal app for Windows 10 PCs and phones. It brings WinZip's renowned file sharing, file management and security to the UWP Windows 10 platform.
Bill Richard, VP of development, WinZip said:
"WinZip started out as Windows users' first choice for encryption and compression and now we've become the central hub for all your file management and sharing needs. Whether we're supporting direct integration with OneDrive and Office 365 or building new file sharing platforms using Azure, we're always looking for new ways to take advantage of the latest Windows technologies to help us drive WinZip product innovation and an amazing experience for our users."
The app features:
Full support for the Windows 10 operating system, including PCs, tablets, and phones
Open .zip, RAR, 7z, .zipx plus 22 more formats, including .gz, .bz, .ISO, .CAB, .B64, .BHX, .BZ, .BZ2, .CAB, .HQX, .LHA and .LHZ, .MIM, .TAZ, .TBZ, .TBZ2 .TGZ, .TZ, .UU, .UUE, .XXE, and .Z
Save to .zip and .zipx formats and secure confidential files from prying eyes, whether they are sent by email, shared online or stored on your system, with WinZip Universal's military-grade encryption
Ask your assistant to zip/unzip files for you-WinZip Universal works with Cortana
Interact seamlessly with your DropBox, Google Drive, Box and OneDrive cloud services. Easily upload or download files, zip and encrypt before posting, and share links to files from your own email
Easily send large files by email by zipping your attachments first or by using the integrated ZipShare file delivery service
Securely share any type of file and rich content on Facebook, LinkedIn and Twitter using seamless integration with ZipShare
Deliver zipped files to your contacts through email, social media or other Windows 10 apps using the Windows 'Share file with app' option from the WinZip 'Share' button
Secure any files you send to mobile devices with WinZip's password protection
Experience super easy-to-use Microsoft Office tab-style interface with touch-friendly features
Quickly see the content of very large zip files-even those containing hundreds of files-with the optimized user interface
Drag files from Explorer and drop them on WinZip Universal to quickly add them to a zip file
WinZip Universal is available as a free trial and also with one year subscription on the Windows Store here.