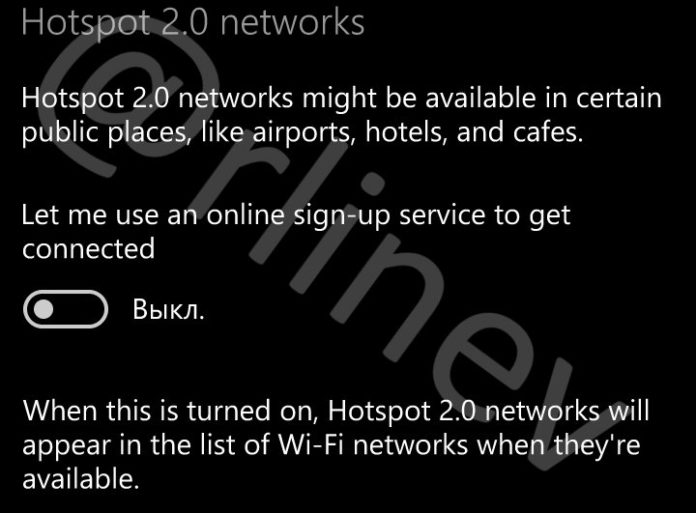 Windows Redstone for Windows 10 Mobile is expected to introduce lots of new features and improvements. Future Windows Redstone Build for Windows 10 Mobile will bring UI refinements, interface improvements and much more.
Now, a new leaked screenshot reveals that Hotspot 2.0 support for Windows 10 Mobile is coming with upcoming Windows Redstone Builds.
Hotspot 2.0, also known as HS2 and Wi-Fi Certified Passpoint, is an approach to public access Wi-Fi by the Wi-Fi Alliance. The idea is for mobile devices to automatically join a Wi-Fi subscriber service whenever the user enters a Hotspot 2.0 area, in order to provide better bandwidth and services-on-demand to end-users, while also alleviating mobile carrier infrastructure of traffic overheads. Hotspot 2.0 is based on the IEEE 802.11u standard, which is a set of protocols published in 2011 to enable cellular-like roaming. If the device supports 802.11u and is subscribed to a Hotspot 2.0 service it will automatically connect and roam.
What do you think? Do let us know in comments below.
Thanks Ayush for the tip!!