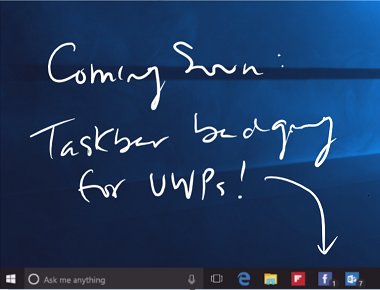 Microsoft's Build 2016 is already over. And, Microsoft has announced lots of cool things for Windows 10 and Windows 10 Mobile. As reported by us earlier, Microsoft has announed 5 big features for Windows 10 Mobile, you can read more about it by clicking here.
It looks like we missed something very exciting news in Build 2016 seasons. Microsoft has finally announced Taskbar badging for UWP and it is coming with Windows Anniversary update, which is expected to arrive this summer, probably the same time when Windows 10 launched in public. Taskbar badging will be very useful addition to Windows 10 OS, it will allow you to see how many of your notifications are pending in UWP apps like Facebook, Twitter and much more.
Indeed, its pretty exciting news for those who were waiting for it, eagerly. What are your thoughts about this new feature? Do let us know in comments below.