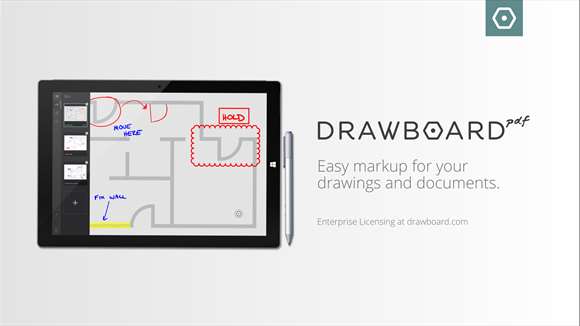 Popular, premium, Drawboard PDF universal app has been updated in Windows Store for Windows 10 Devices to version 5.0 beta, the updated app now comes with several new features and improvements.
Changelog:
Features:
Drawboard PDF is now a Universal Windows Platform (Windows 10) application.
Support for Cortana.
Support for Windows 10 Drag and Drop.
Improvements:
Greatly improved memory usage.
More responsive UI.
Context menu now lives down the bottom of the document in a short options bar.
Enhanced disk caching
New inking technology – ink is faster and instantly visible on the canvas.
New radial menu technology and interaction animations.
Text review tools now appear as you drag the stylus.
Text review tools now support opacity.
Redesigned Polygon tool.
Redesigned Notes tool.
Resigned signature tool.
Redesigned Insert Text tool.
Redesigned arrow tool – now draws as you drag the stylus.
Redesigned cloud tool – now draws as you drag the stylus.
Improvements to annotation resizing, moving and rotation, maintaining scale proportions.
Ability to set opacity on pressure-sensitive ink.
Redesigned iconography.
Undo/redo now also supports clearing annotations, adding new pages and rotating pages.
Insert picture from camera – window no longer fills entire screen.
Improved accuracy of text selections.
Removed:
Sound Notes tool has been removed.
Group stroke inking has been removed.
Pressure sensitivity can no longer be disabled – all ink is now pressure sensitive with the exclusion of that created with Touch to Annotate.
Arrowhead direction options have been removed temporarily.