Windows 10 Mobile Build 14291 on Lumia 640 or any supported Lumias is officially available for download. It is worth noting that Windows 10 Mobile Build 14291 is the third Windows Redstone build for Windows Phone users. Windows 10 Mobile Build 14291 has been released to Windows Insider in the fast ring to replace the previous build 14283 which arrived with numerous of bugs which were so annoying that you will throw your phone in a dustbin.
Remember, Windows 10 Mobile Builds from Windows Redstone (or, development branch) is yet to arrive for older devices which are officially receiving Windows 10 Mobile via update advisor app. You can know more about which devices now supports Windows 10 Mobile Redstone Builds by clicking here. Those who are interested in hacking your phone to get the new Windows 10 Mobile Redstone build right now, you can contact me for installation guide by mailing me on [email protected] (note I will not respond you within a few days, wait!).
INSTALLATION EXPERIENCE: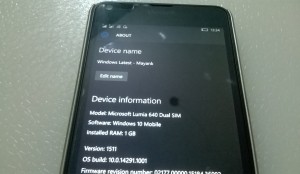 Windows 10 Mobile Build 14291 on Lumia 640 installed very smoothly if we exclude the downloading process. The download took around 4-5 hours which was very slow as on every few minutes the phone keeps disconnecting from Windows Update server and to resolve the issue we performed soft reset and finally the download completed. Now, moving to the next process, "preparing to install" also took nearly 20 minutes which was normal in Redstone Builds. Those who are wondering we updated our Lumia 640 to Windows 10 Mobile Build 14291 from Build 14283.
After preparing to install process finishes the Lumia 640 entered into the war of two spinning gears. The process of spinning gears took around 20 minutes which is around 5 minutes longer when compared to the installation of Windows 10 Mobile Build 14283. After the gears of war completed, the device begins migrating data and one of the interesting thing is that the migration steps is reduced from 10 steps to 7 steps. To clear the things a bit, previously the migration takes around 23 steps (in Windows 10 Mobile official version or build 10586.164) > The, first, Redstone build reduced it to 10 steps > and now with Windows 10 Mobile Build 14291 migration process is being reduced to 7 steps. Which is a really nice and now migration process took around 10 minutes or less/more.
Overview: Goodbye old bugs and welcome new annoying bugs
Windows 10 Mobile Build 14291 seems very faster on  Lumia 640 for some hours, but after 12 hours of continuous use, the operating system begins to slow down. We are not alone, every Windows Insiders are reporting that their devices getting slowed down after some days of Windows 10 Mobile daily use. As reported in previous Windows Redstone builds, the major issue of  Windows 10 Mobile Redstone Builds freezing bug on Lumia 640 has been finally squashed but new unknown bugs are also introduced with this brand new Windows 10 Mobile Build 14291.
Now, Windows 10 Mobile Build 14291 is having another major issue which we will demo in our exclusive video later today. Sometimes, while typing using the keyboard on any app even Microsoft Edge or WhatsApp the space key doesn't work. The immediate fix is to perform a soft reset but the issue is continuously happening on our Lumia 640 and, that's irritating.
What's' new in this build:

Updated Maps app: This build includes an updated Maps app for Windows 10 that brings a more lightweight, scalable, and consistent UI as well as underlying architecture improvements and new features for you to try!
One-tap access to search and directions from anywhere, even on your phone. This is great especially for one-handed use.
You can view multiple searches and directions at the same time, on the same map as they are layered on top of each other and you can use tabs or the map to switch between them.
You can now minimize search results, directions, and location info to enjoy more of the map, while keeping them in easy reach.
You can see labels for your search results directly on the map. No more numbers to match between themap and the list.
Cortana will give you turn-by-turn directions (if Cortana is enabled).
We have improved the logic for nearby searches so you should see better (closer) results.
We have added the ability to search for your favorite city in the 3D cities list so no more scrolling forever to get to the city you want.
You can now access your favorites offline and add notes to them.
We have updated the turn-by-turn design to improve glanceability and landscape layout.
Updated Alarms & Clock app: We have pushed out an update to the Alarm & Clock app that introduces a new inline time picker and improved design for creating and editing alarms and timers.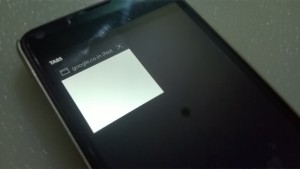 One of the changes which were not mentioned by Microsoft is that now Microsoft Edge browser incude larger tabs, so its now very easy to close them, check above image. As you can see in above changelog the new Windows 10 Mobile Build 14291 doesn't include any more new features or major changes.
PERFORMANCE AND APPS TEST: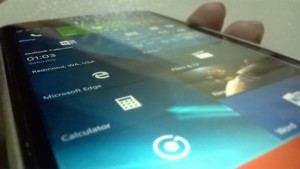 Windows 10 Mobile Build 14291 on Lumia 640 does come with performance jump compared with previous builds. Almost all app were opening very faster on Windows 10 Mobile 14291 but there was a major issue which keeps some apps on the loading screen and it never opens. For example, UC Browser stuck on loading screen for around 20 minutes and then crashed.
We have noted down some of the most downloaded apps performance below:
Windows Store [Fast]
Microsoft Edge [Fast]
Windows Camera [Fast]
People App [Fast]
Calendar [Good]
Outlook [Fast]
Maps [Smooth]
Settings Menu [Fast]
Messaging [Fast]
Twitter [Slow]
OneDrive [Smooth]
WhatsApp [Good]
Facebook [Little fast]
Skype [Smooth]
OneNote [Fast]
Word [Fast]
UC browser  [not opening]
Like the previous build, Windows 10 Mobile Build 14291 comes with lots fixes which Windows Insiders were waiting for a long time.
We fixed the issue where connectivity to older Wi-Fi networks using the WEP encryption security method may be broken.
We fixed an issue resulting in slower text input speed the more words were typed.
We have improved Word Flow recognition of longer words.
The All apps list has been updated to now follow the "Make Text Larger" ease of access setting.
We fixed an issue where Settings would sometimes list unresolved app names under Extras.
We fixed an issue where touch targets could be out of alignment in the Photos picker.
Conclusion:
Its quite tough to say that Windows 10 Mobile Build 14291 is better than the build 14283. But, overall Windows 10 Mobile Build 14291 does have an Edge over the prevoius Windows Redstone builds. Beinga Windows Insider, give this build a GO!
We're soon going to publish our video review on new mobile build. Do let us know your experience in comments below: