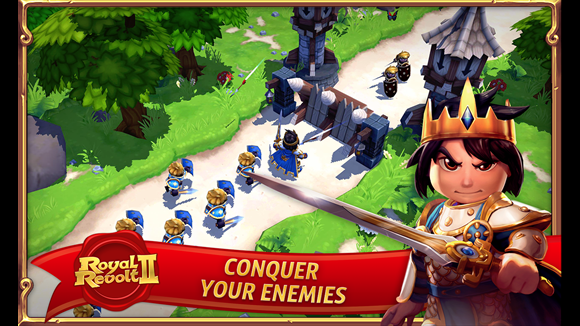 Popular strategy game, Royal Revolt 2 gets updated in Windows Store for Windows and Windows Phone running devices.
The updated version introduces defense strategies, characters and new levels for the game. The changelog in the store reads:
BRACE YOURSELF • Take your Throne to a whole new level! • PLUS!…new alliance, castle & defensive building, hero, unit and spell levels! • Heal your troops using the powers of the traveling Monk, a new support unit. • Zap your enemies with the new Lightning Tower! • Summon unit clones in battle with the ghastly Black Magic spell. • Boost your food, gold and pearl production rate! • Dig deeper into the Dungeons with 10 new levels. • Conquer a total of 120 Fiefdoms with your Alliance and win new Elite Boosts. • The Blacksmith now allows Pearls to reinforce your defenses, units and spells. • Spice up your Alliance and Hero with one of the new sigils or item colors. BALANCING & OTHER CHANGES • More Pearls for every Gem you spend. • Increased chance of finding Pearls from Magic Chests. • More Pearls given in the Chamber of Fortunes once the Blacksmith is unlocked. • Blacksmith slots produce more Pearls once one or more slots are purchased. • Increased Alliance Gold Boost for Alliances with >300K Trophies. • Before removing Perks, enjoy the added ability to see their chances and types.