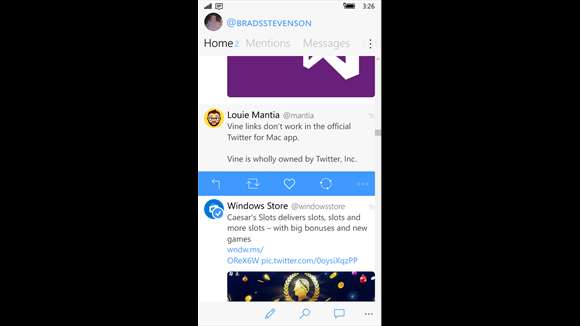 Aeries for Windows 10 and Windows 10 Mobile devices seen a new update in Windows Store. The update is pretty major, as the developers behind the app squashed tons of bug and introduced several improvements in this version 2.2.0.32.0.
Changelog :
Fixed a crash when trying to view the details of a deleted tweet.
Fixed interaction with video controls and restored close on tap/click
Fixed issues where the actions drop-down could not be opened on a tweet.
Fixed an issue where manually starting streaming could cause you to miss out on a few tweets.
Improved streaming stability.
Improved performance and caching of user profiles.
Added expand button to quick reply on mobile, it's now easier to send more elaborate replies!
Fixed an issue where the live tile may not be getting updated in some cases.
Fixed an issue where syncing save read position between devices could cause the position to get stuck or display an incorrect number of unread tweets.
Debugging and logging improvements to help me get fixes to you faster!
Fixed issue where quick reply send button could seem unresponsive.
Autosuggestions now don't echo what you have currently typed.
Fixed some issues where autosuggestion can get stuck in the wrong state.
Thanks Rajesh Komte for the tip!!