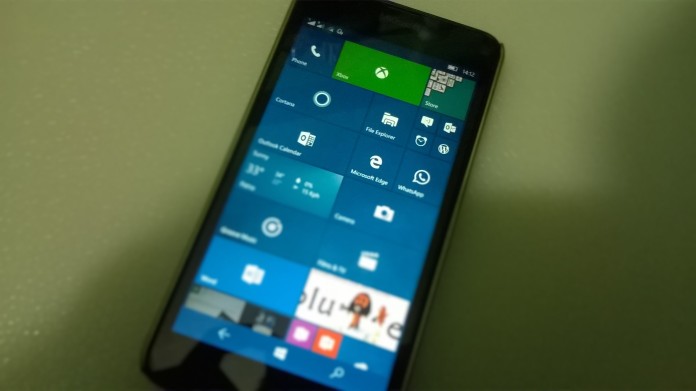 Windows 10 Mobile Build 14283 on Lumia 640:
Windows 10 Mobile Build 14283 on Lumia 640 or any Lumia is second Windows Redstone build with good numbers of improvements. It's been more then two weeks since Windows 10 Mobile Build 14267 from Windows Redstone branch was released for Windows Insiders in the fast ring for selected Lumia's including the Lumia 950, Lumia 950 XL, Lumia 550 and Lumia 650. However, we were able to download and install the Windows 10 Mobile Build 14267 on unsupported Lumia's including Lumia 640 and its bigger brother the Lumia 640 XL. If you are interested, you check out our review of Windows 10 Mobile Build 14267 on Lumia 640 by clicking here and on Lumia 640 XL by clicking here.
Those who are interested in hacking your phone to get the new Windows 10 Mobile redstone build, you can contact me for installation guide by mailing me on [email protected]
INSTALLATION EXPERIENCE: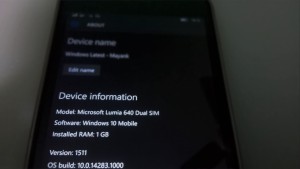 Like the first time, we faced lots of trouble when installing the Windows Redstone on the Lumia 640. However, this time, it was very smooth experience as we no longer need to repeat the same hack to get the new build installed. It seems Windows 10 Mobile Build 14267 included a bug in which the connection to Windows Update was very weak and downloading took a lot of time. At a certain percentage of download, it stopped using WiFi network. However, a soft reset fixed the problem and we were finally able to install the build.
Preparing to install process took less then 10-20 minutes. On other hand spinning gears took around 15 mins and 5-10 minutes on the migration process. So, the total installation process was around 45 minutes which is not that bad keeping in mind its a Windows Redstone Build. After the update, the apps which are installed in SD card took 20 minutes to come in a working stage.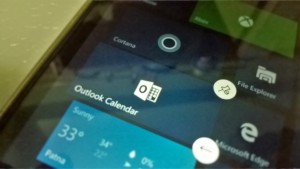 Windows 10 Mobile Build 14283 also includes a new live tile resizing animation which looks pretty cool. For those who are wondering, when we resize a live tile in the start screen it shows a new fading animation. We will demo the new animation feature in our video review, which is scheduled to publish later today. On other hand, some of the major bugs are not still fixed in this build, as reported earlier this month that Windows 10 Mobile Build 14267 is having a major freezing bug on a Lumia 640 and the issue is still happening on our device. However, the Wifi connecting bug has been fixed in Windows 10 Mobile build 14283.
Windows 10 Mobile Build 14283 comes with new improvements which are pretty exciting. You can read them below:
Improvements to the Phone app: We know how important it is to stay informed when someone is trying to reach you, whether that's through notifications, Live tiles on your Start screen, or directly within your communications applications. To help with this, we've added missed call and voicemail waiting indicators to the tabs inside the Phone app. Once you navigate to a tab with a missed call or voicemail – the indicator goes away. We've got another change coming that will keep the indicator in place until you navigate away from the tab. There is also a bug where you might not see the indicator clear right away – a fix is coming soon for this as well. Let us know what you think!
Updates to Outlook Mail & Calendar: Yesterday, we released an update to the Outlook Mail & Calendar apps that introduces some new features and improvements. In Outlook Mail, you can turn off the message preview text in the message list (Settings > Reading > Conversation and turning "Show preview text" off). You can also quickly get rid of junk email in your inbox by pressing down on a message to bring up the context menu and choosing 'Move to Junk'. In Outlook Calendar, you can now let others know "I'll be late" directly from meeting notifications.
Coming Soon – the Feedback Hub: When you open Insider Hub on this build, you will see a new welcome dialog for Feedback Hub. Coming in the next mobile and PC build – we are bringing together the Insider Hub and Windows Feedback apps into a single app called the Feedback Hub. The Feedback Hub carries over all of the best things from the previous two apps plus some new things Insiders will enjoy. For example, in addition to upvoting feedback, you will be able to also leave comments on feedback. We have also redesigned the homepage in Feedback Hub to bring together announcements and quests. Stay tuned as we'll have more to say about the Feedback Hub with the next builds for mobile and PC when the app is ready for Insiders to use.
PERFORMANCE AND APPS TEST: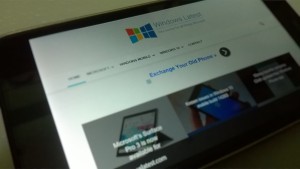 Windows 10 Mobile Build 14267 on Lumia 640 worked very good and the performance was far better than previous Windows 10 Mobile Redstone Build. Windows 10 Mobile Build 14283 finally includes app list background shade bug fixed, which is one the most welcomed improvement on this new build. The apps and games were loading very faster and there were some loading and resuming screen that you can expect from Windows Redstone Builds on unsupported phones.
We have noted down some of the most downloaded apps performance below:
Windows Store [Fast]
Microsoft Edge [Fast]
Windows Camera [Fast]
People App [Fast]
Calendar [Good]
Outlook [Fast]
Maps [Smooth]
Settings Menu [Fast]
Messaging [Fast]
Twitter [Slow]
OneDrive [Smooth]
WhatsApp [Good]
Facebook [Little fast]
Skype [Smooth]
OneNote [Fast]
Word [Fast]
Like the previous build, Windows 10 Mobile Build 14283 comes with lots fixes which Windows Insiders were waiting for a long time.
We have addressed an issue where the background behind the All apps list would not have an overlay (causing it to appear too bright or too dark, depending on your background) if you went back to All apps list after launching an app.
We fixed an issue causing the title of a song in volume control to flicker a few times when you pressed play or changed tracks after a pause.
We fixed an issue some users were experiencing with Build 14267 where your device could hang while typing and reboot.
We made some more improvements to the Live tile refresh logic. First, if there are pending notifications for several Live tiles, we will now update them in one quick sweep across the Start screen rather than one at a time. Second, if a Live tile has both badge and content updates, they will now appear at the same time. Finally, apps will now launch faster from the Start screen if there are incoming Live tile updates at the same time.
We fixed an issue where Live tiles for certain apps (such as the Weather app) would sometimes unexpectedly be cleared of active notifications.
We fixed an issue in which the Start screen background would appear to stutter behind the tiles when scrolling up and down the Start screen on some devices such as the Lumia 950.
We fixed an issue where the keyboard would sometimes pop up when swiping over to the All apps list.
We fixed an issue where icons for certain apps would appear too tiny on Live folders on the Start screen if your phone was set to 350% DPI.
We fixed an issue where "More notifications" message in Action Center was not properly formatted.
We fixed an issue where for certain languages, pressing "@" button could result the contents of the clipboard being pasted.
We fixed an issue where notifications using custom sounds would be silent if the underlying audio file had been deleted. Now, if that file is not present, it will play the default notification sound.
Connected to wireless displays should now work by going to Action Center and expanding Quick actions and choosing "Connect".
Conclusion:
Overall, Windows 10 Mobile Build 14283 is quite better when we compare it previous Windows 10 Mobile Redstone Builds. With new improvements and fixes, the build is a must upgrade from Windows 10 Mobile Redstone Build 14267.1004. However, we are also looking to try the build on a 512 MB RAM devices, but we believe the performance will be still poor on a low-end device.
We're soon going to publish our video review on new mobile build. Do let us know your experience in comments below: