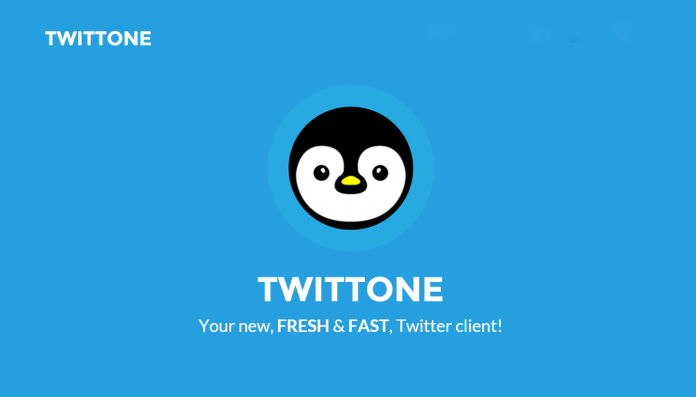 Today we bring you the fastest 3rd party Twitter client for Windows 10 Mobile – Twittone. We have spend sometime with the app and it is quiet impressive. Considering the app is in beta version, still the app has some bugs and some areas need to be improved. Let's discuss what are the features offered by Twittone.
There are a no. of third party apps in Windows Store including the official app for twitter. But Twittone offers you something more. The app description of Twittone is "Your new, FRESH & FAST Twitter Client". After spending a day with the app we can say that the two words FRESH & FAST suits for this app. Twittone has something FRESH for you and is FAST. Personally i can say that Twittone is the fastest twitter client i have ever used on Windows 10 Mobile.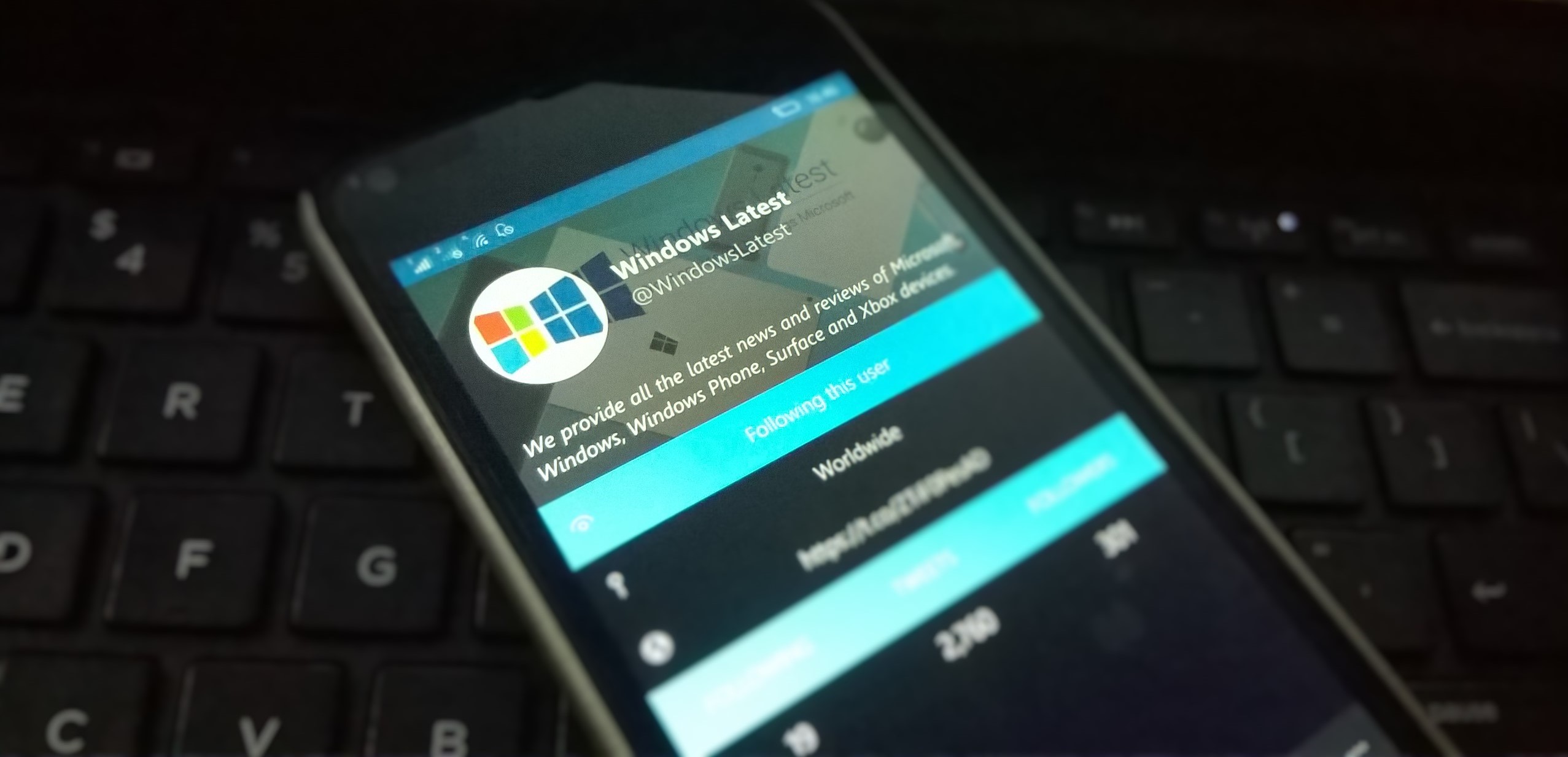 Let's see what the app tells about himself:
Twittone is exclusively designed for Windows 10 (currently Mobile) and aims to simplify your Twitter social experience.The client is currently in BETA and your feedback is greatly appreciated.
Help us develop the Twitter client you have always dreamed about.
Fast & Easy to use
Live Tile support
Lists support
Interactive toast support
Push notification
Cortana support
Lets look deep into the app
Like all other 3rd party twitter clients Twittone also doesn't have direct access to user's profile. What this means is we can't access our profile directly from the client app. Twittone is also one like that.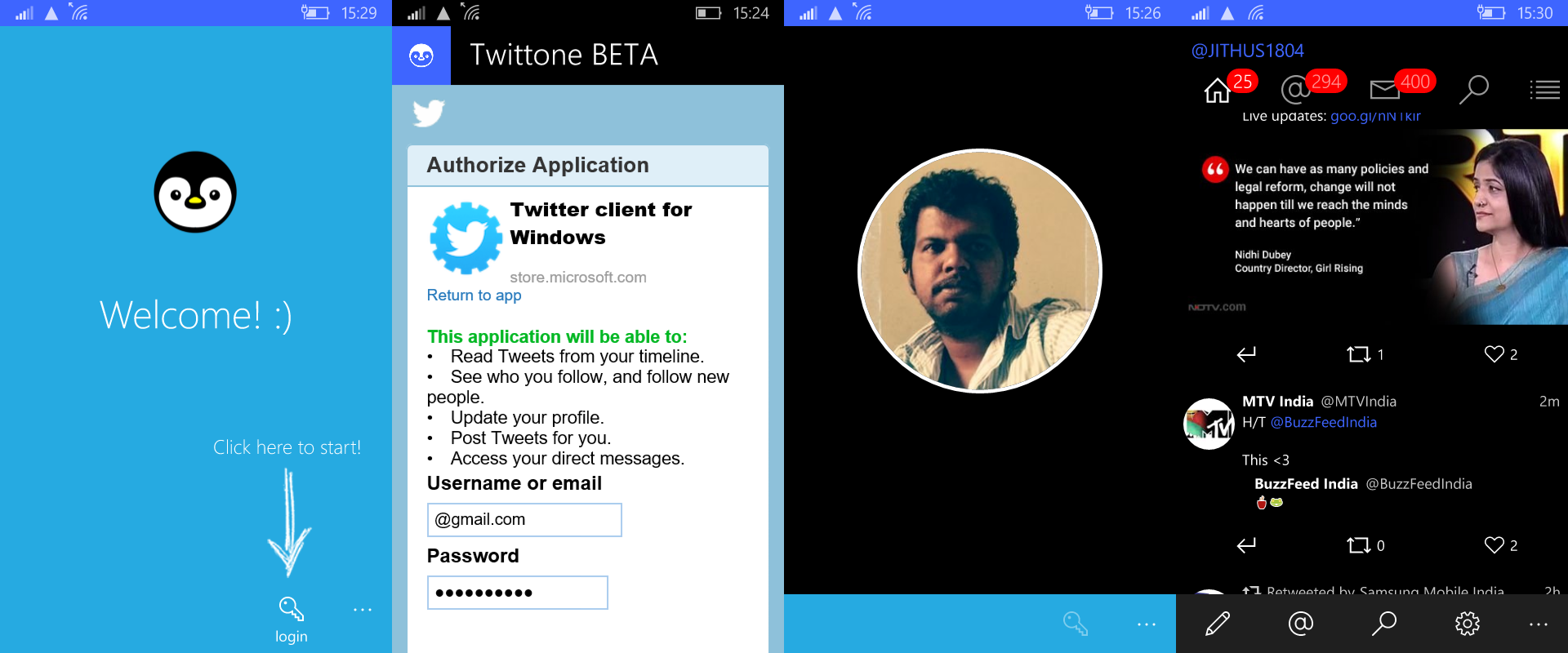 The app Twittone is being authorized by twitter to access our profile. But the greatest drawback of twittone is one cannot edit or modify our profile even we don't have access to our profile page.
Now let keep this apart. The app has great design and is well optimized for Windows 10 Mobile. The User Interface of the app seems refreshing. Each tweets are positioned well in the app and tweets are easily readable. The app will be good to use in a large screen device considering its UI. At the same time UI has some tweaks also.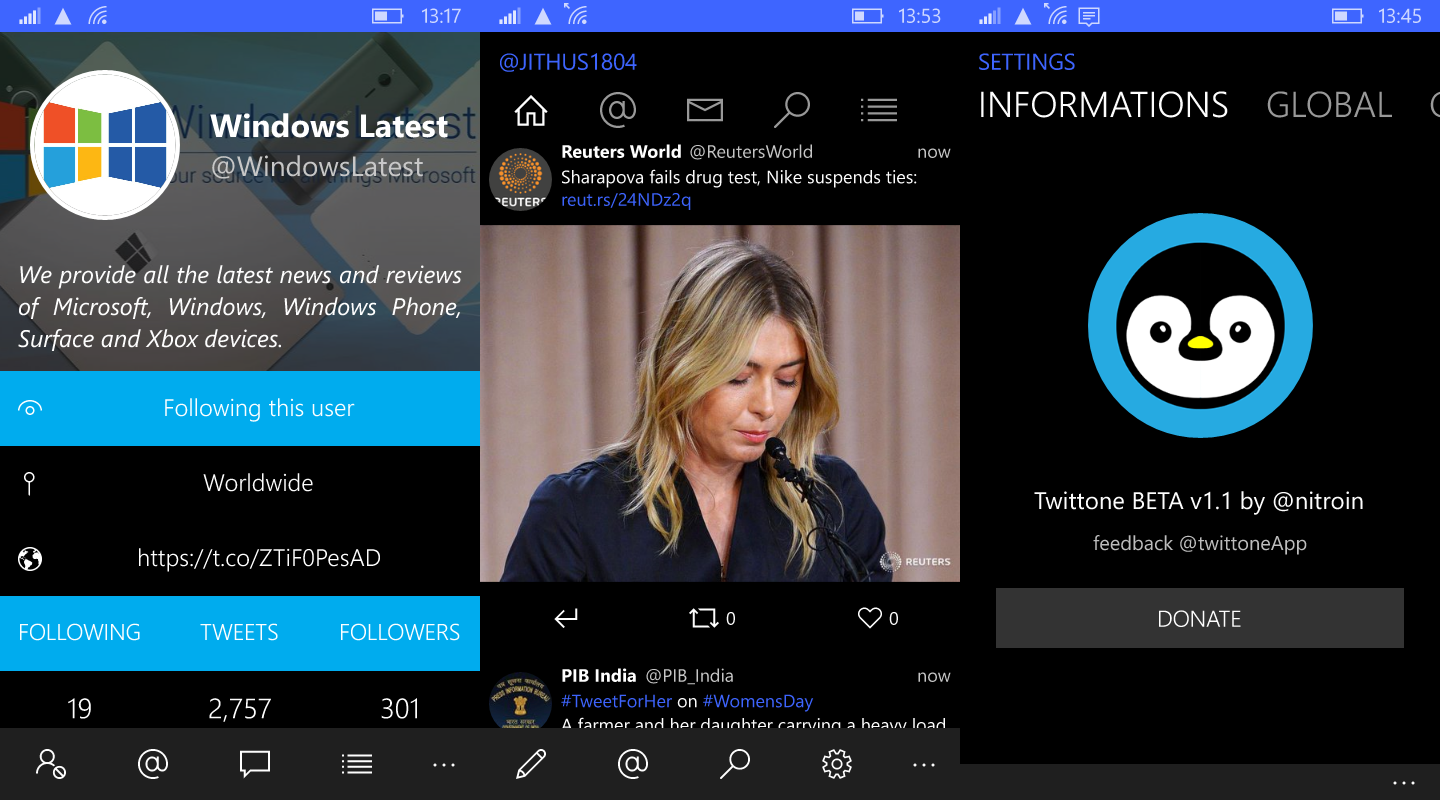 One is with refreshing the twitter feed. A refresh button is not available and drag towards down also will not refresh your twitter feed. The app itself has to refresh. When we press the Home button it takes us to some new tweets but not latest.
Another one is while searching a profile. Searching a profile will return you some old tweets with mention of the profile. i.e, if you search @windowslatest it will not return you with the profile instead some old tweets with the mention @windowslatest.
Notifications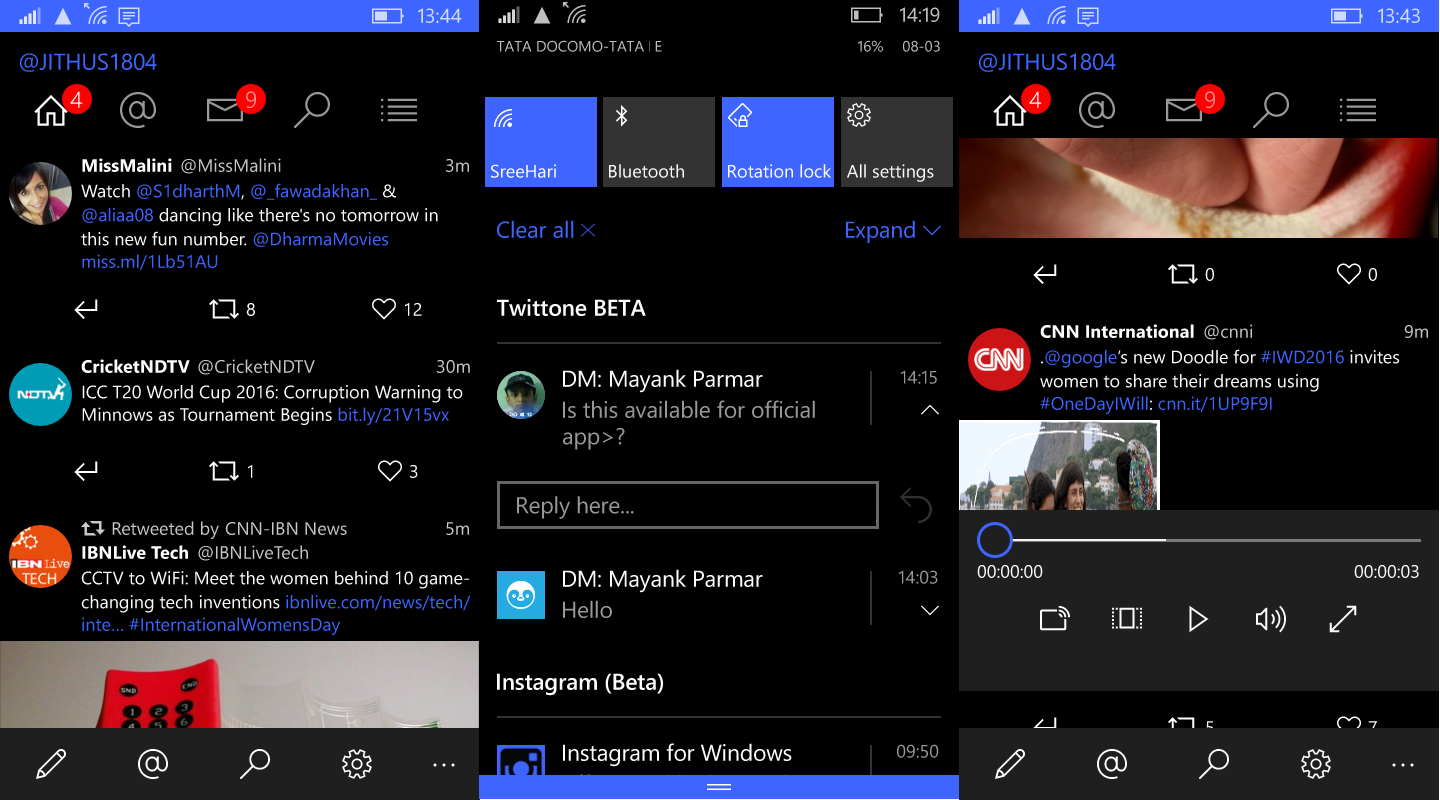 Notifications of the app is quiet impressing. Like i said earlier the app has no manual refreshing and the app has to update itself. But it will notify in the Home button how many new tweets have been posted to our feed. This is a nice and cool feature. Message and Mention notifications also works good. But at times both mentions and messages show wrong no. of notifications. Also sometimes Messages show the one we send as an unread message.
Regarding push notifications, mentions are not being pushed to notification bar. We have to access the app to know the mentions. But it works quite good for messages. As the app promises "Interactive toast support" works well at least in the case of messages. Push notification also works good for messages.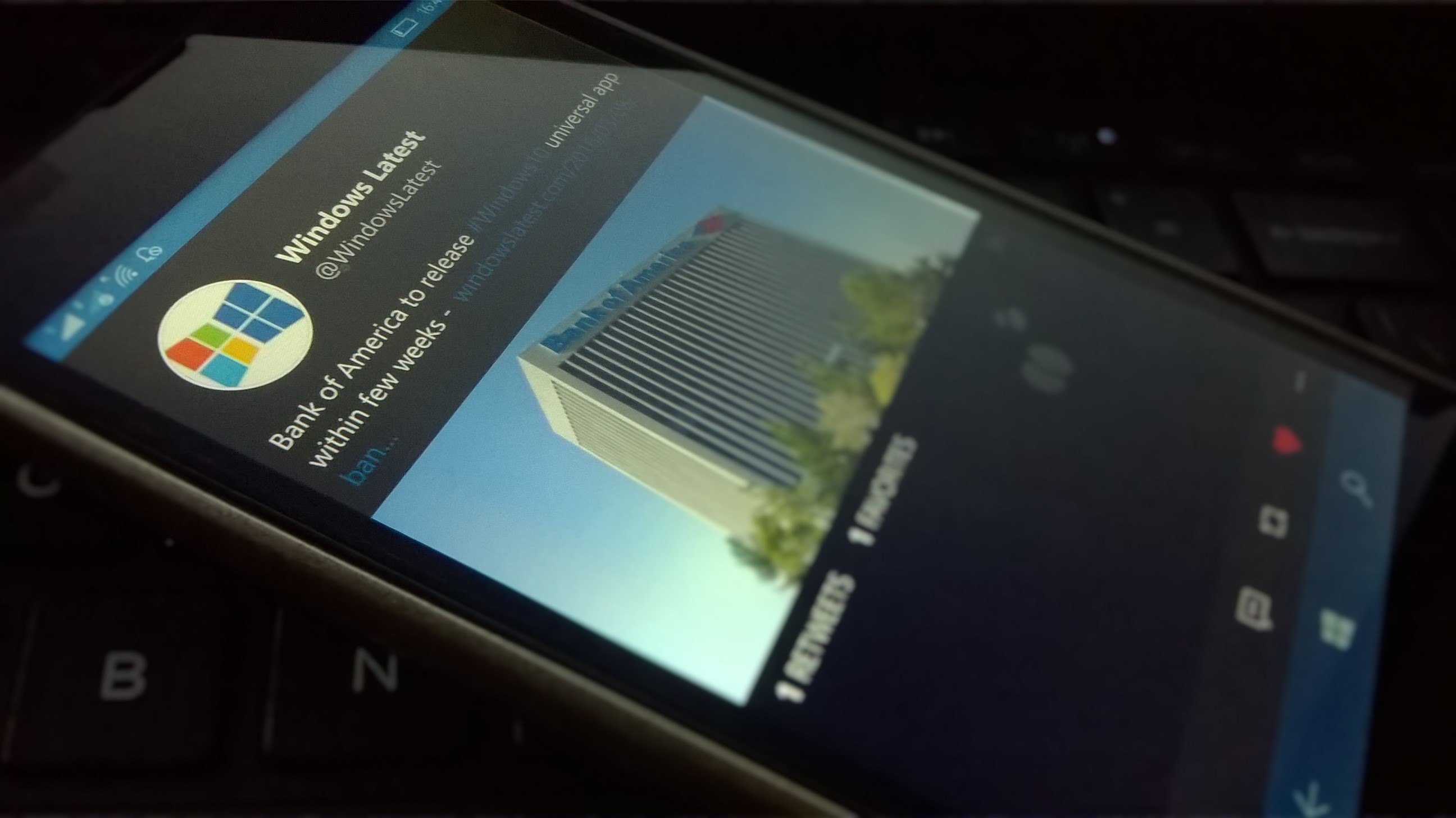 Another notable feature is inbuilt video player. We can play the video within our feed itself. And the player is quiet good. There is no ON/OFF feature for video, i.e, video will auto play once a tweet with video comes to our feed. The App doesn't have the latest addition of Twitter, GIF Support. GIF is considered as video and is being auto played.
Live Tile:
For most of the third party clients live tile doesn't work good (atleast for me). But twittone is different from that. Live tile works great for the app.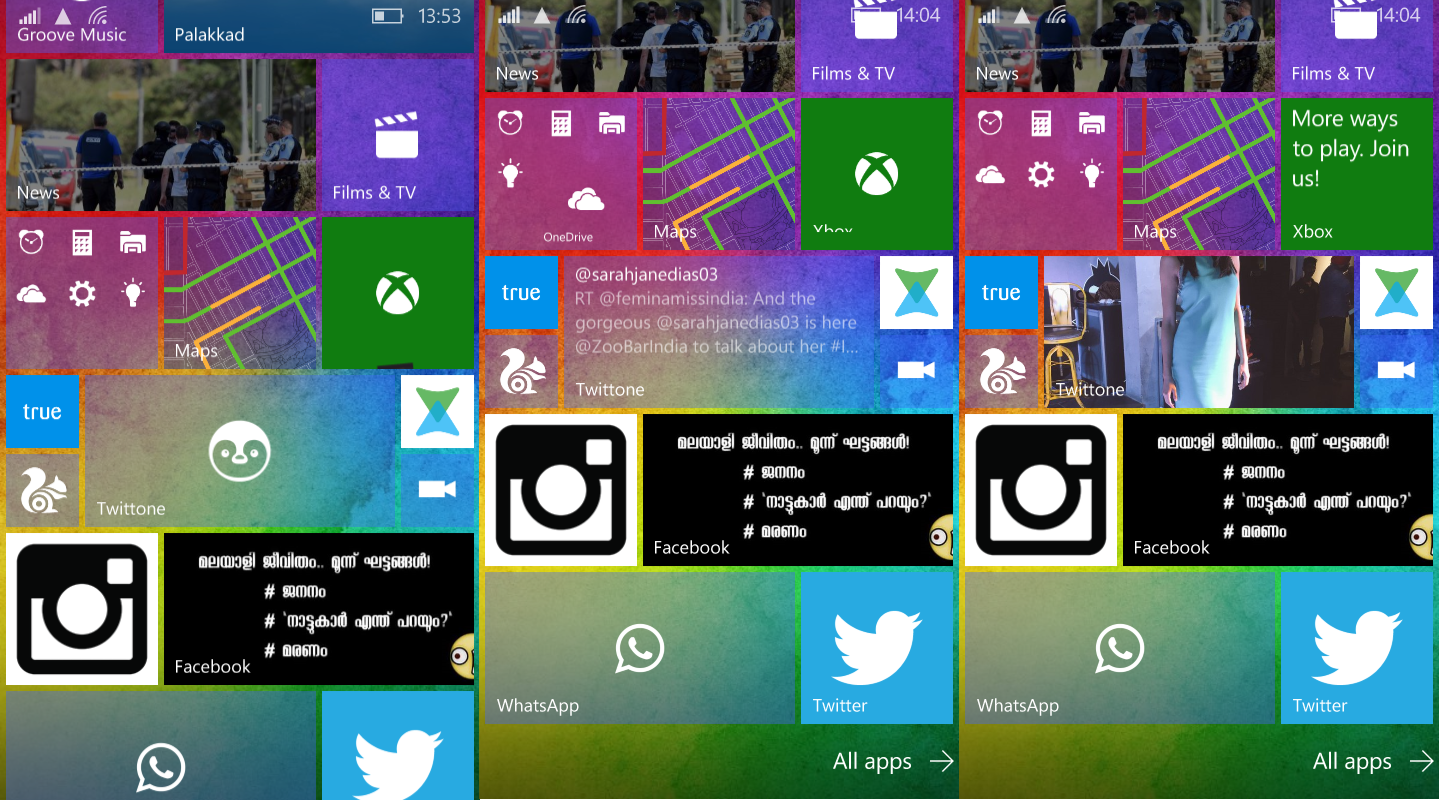 The app features a flip live tile. One side of the tile shows the tweet and the other side shows the picture of the tweet. But the live tile miss the notifications. Only tweets are available and no mentions and messages in live tile. Anyway this is pretty feature and notifications may be added in future. Remember official app doesn't have this feature.
Settings Menu: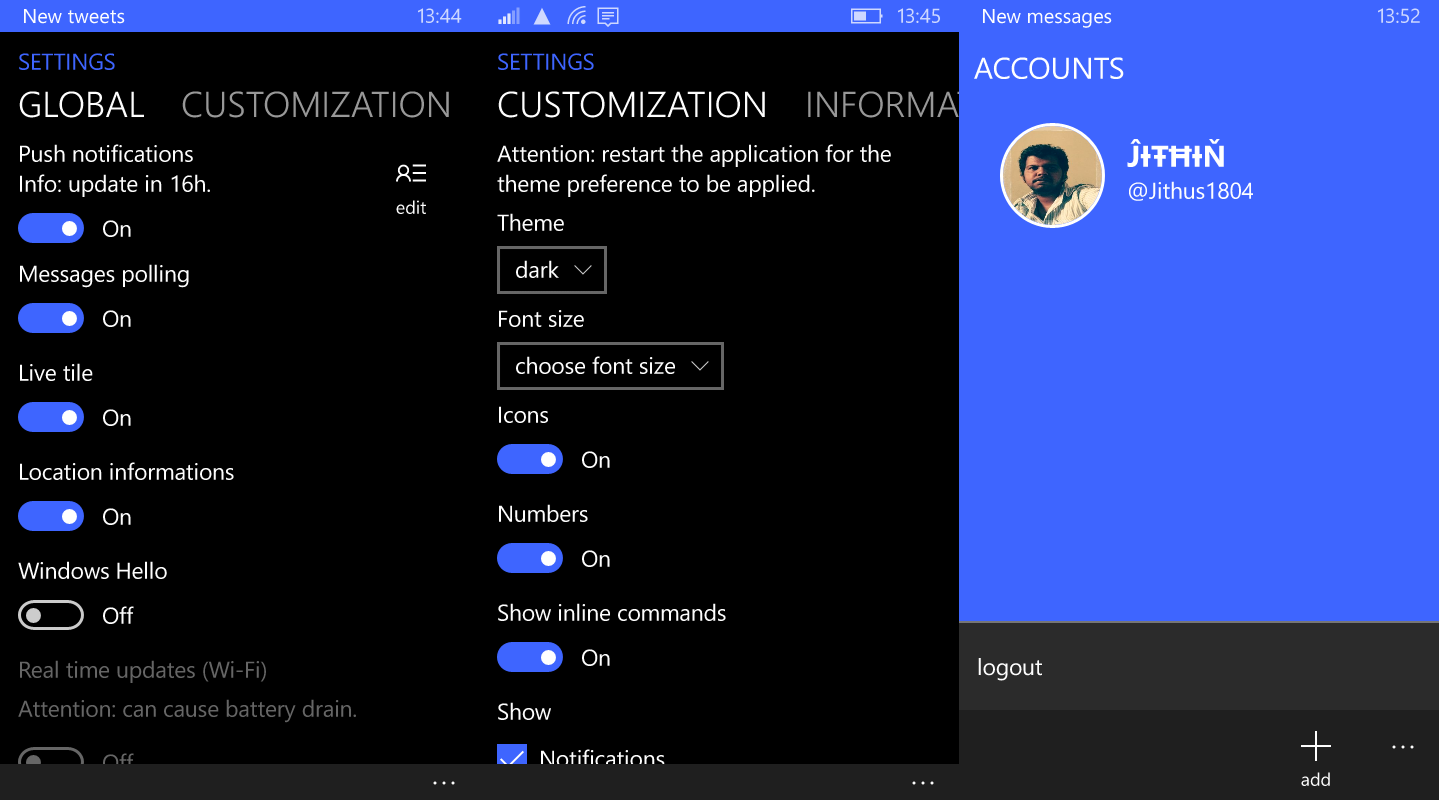 As twittone is a third party client it doesn't offer much on Settings. It has options for push notifications, live tile and locations information. On the other hand we can change the theme, font size some other customization. As i said earlier we have no access to our profile (the third pic) this is what we get when we go to accounts. No further access.
Windows Hello: One of the notable feature of Twittone is it supports Windows Hello even at its beta stage.
Developer Speaks
So we have discussed about the app. We have contacted the developer to hear from himself about the app. See what the developer has to say
"The developer says he haven't have any special plans for the app. He improves and update the app by hearing the user feedback.. He has given us a list that he got from the feedback and says should concentrate in these in future.
Lists improvement
UI improvement to maximize view space in the main view
Search enhancement to be able to search users and trends or images
Logged user profile management (that's a big missing part atm)
Notifications improvement with re tweets (not mandatory, users can opt-out)

Bug fixing

More bug fixing

Again bug fixing

bug fixing
So that's it from the developer and thanks Manuel Serra for your time.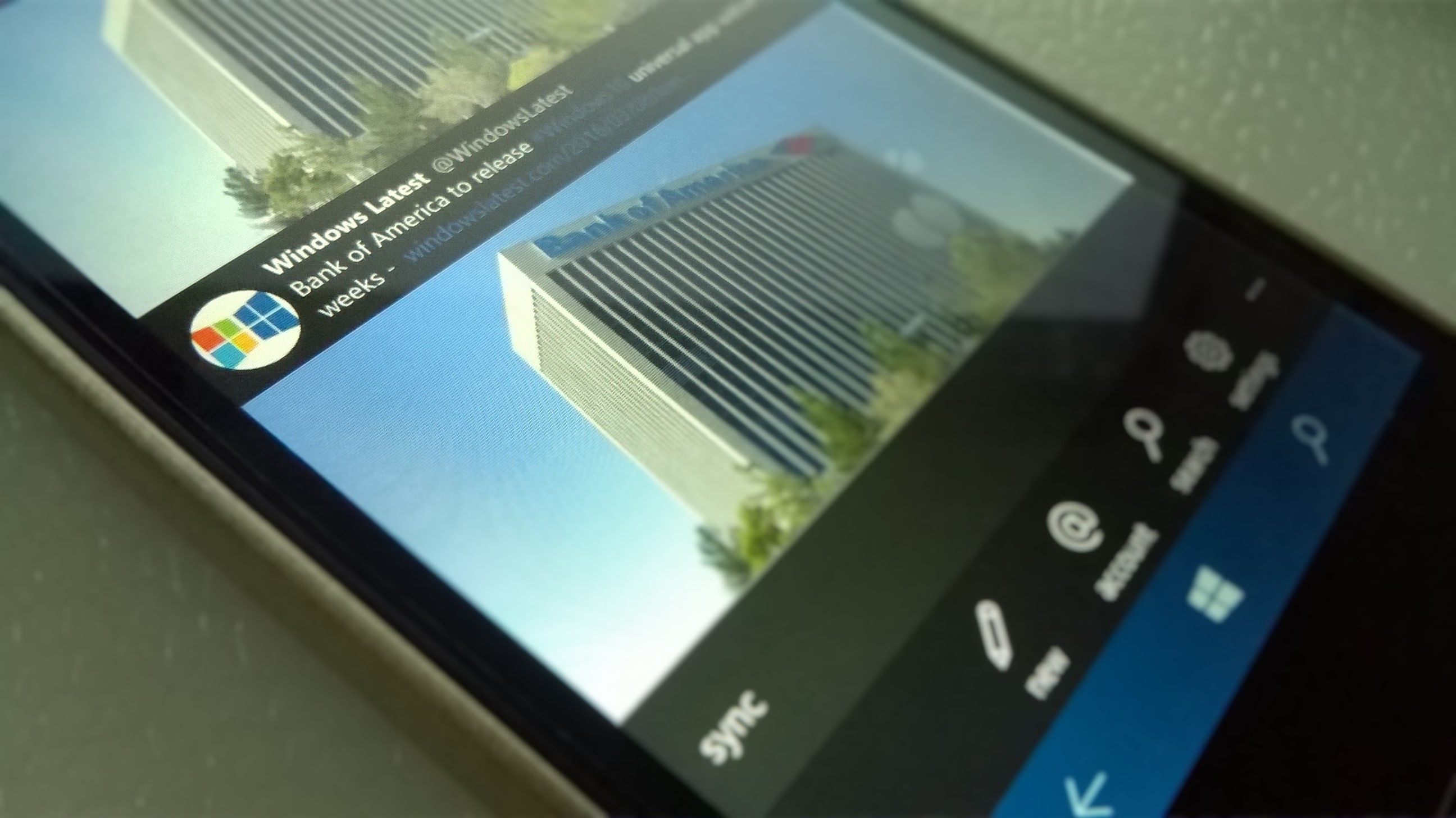 The developer himself think that the biggest drawback of the app is the user can't access his own profile page in the app. And promises will add this feature in future.
Lets keep all the things aside. Twittone is in Beta now. Within Version 1.1 app has shown a great potentiality. The smoothness and light weight of the app is much appreciable. App is opening at a lightning speed. As our heading tells the greatest feature of the app is its fastness. The app is full of features but need some tweaking at some areas.
Definitely the app is a must try for every tweeps
Download Twittone (Unlimited Free Trial /  ₹92 OR $1.49)