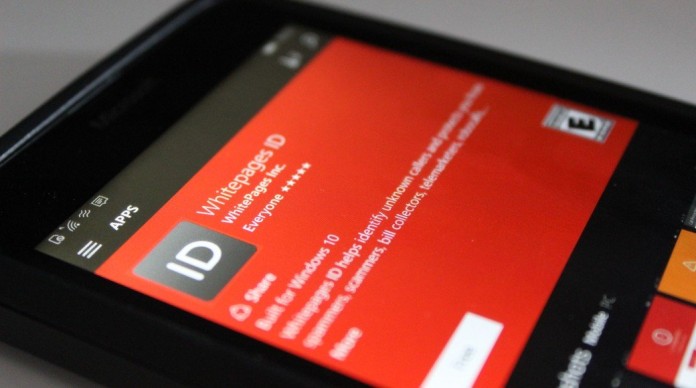 Whitepages announced a partnership with Samsung where they will provide S7 users with a Whitepages Caller ID feature to help users identify unknown callers and protect them from Spam during the Mobile World Congress 2016 Galaxy S7 launch.
Today, Whitepages has launched a Windows 10 Mobile Whitepages ID app to provide a similar app experience. It allows users to easily report malicious calls and help the Whitepages community build a list of bad numbers. The app protect you from the scam calls and any spam texts coming on mobile phones.
They have information about more than than 600 million U.S.-based phone numbers and 1.5 billion numbers worldwide.
Know who's calling before you answer!
KEY FEATURES
• Caller ID: Only take calls from people you want to talk to. Take calls from friends not in your phone book. Pick up the call from your doctor. Never miss an important call from someone trying to get in touch.
• Call Blocker: Black list spam, scams, and annoying telemarketer or political calls and send them straight to voice mail. Call blocker that black lists and stop calls and SMS messages to take your privacy back.
• Scam & Spam Protection: Alerts automatically appear to warn you if an incoming call is from suspected spam. Easily report spam callers, scams, and SMS spam to stop them from contacting other users in the Whitepages community.
• Phone Book Contact Photos: See the latest profile photo, job title and city information for friends, family, co-workers and business associates from Facebook, Twitter and LinkedIn.
• True Contacts: Add names and addresses from the directory to your phone book contacts to keep them true, complete and up to date.
• Save Money: Reduce the amount of minutes that unknown calls and unknown text messages use up.
Download Whitepages ID app