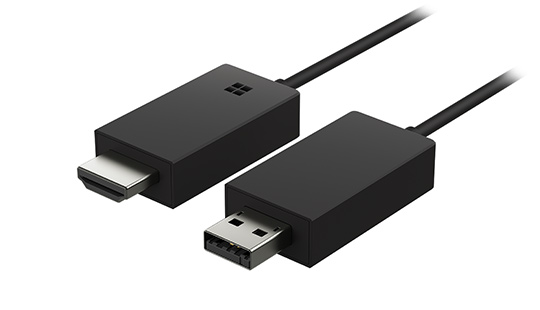 Last week Microsoft announced second generation of its Wireless Display Adapter. This little accessory allow to mirror and extend screen from Miracast-enabled Windows 10 phones, Surface devices and also laptops or tablets. Compared to the first generation, this dongle features new form factory and has better speeds.
Microsoft highlights these features or the adapter:
Wi-Fi CERTIFIED™ Miracast® Technology
The Wireless Display Adapter uses Wi-Fi CERTIFIED™ Miracast® technology, so you're not limited to certain apps or content streaming; you can display everything from your device on an HDTV or monitor. The Wireless Display Adapter is also an Intel® Wireless Display (WiDi) certified adapter and works with 2-in-1s and tablet devices with Intel WiDi capability.
Easily connect
Just plug the USB and HDMI from the Wireless Display Adapter into your HDTV or monitor, connect, then mirror or extend your screen and enjoy. The Wireless Display Adapter delivers a reliable connection with up to a 23-foot range.
You can pre-order Wireless Display Adapter from Microsoft's store for $49.95.