Microsoft has released a new Windows 10 Redstone preview build 14267 which includes not much on features, but does include some new improvements for Edge.
From now the frequency of Updates will be faster than earlier and they are foreseeing June/July as GR of Redstone Build.
Let's see Whats included in Build 14267:
Search for music easier in Cortana: We have made it easier to invoke music search in Cortana by adding a music search icon to the top right of Cortana. You can now open Cortana on your PC and click on the music search icon to have Cortana listen and search for the song that's playing.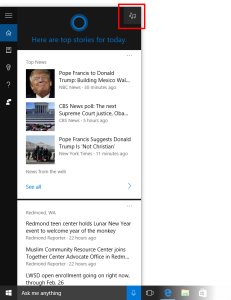 Favorites bar improvements in Microsoft Edge: If you have the favorites bar enabled in Microsoft Edge, you can now right-click on the favorites bar and choose to have it only show the favicons only. You can also right-click to add new folders in your favorites bar as well.
Clear browsing data when you exit Microsoft Edge: You can now choose to have your browsing data cleared when you exit Microsoft Edge. Just click on the three dots at the top right in Microsoft Edge and go into Settings, click on the "Choose what to clear" button under "Clear browser data" and enable "Always clear this after I close the browser" after choosing what data you want cleared.
Improved Download Prompts in Microsoft Edge: You can now configure Microsoft Edge to show a prompt when you start a download, allowing you to choose where to save the file. Just open the Microsoft Edge settings pane (the three dots at the top right) and look for the option under "Downloads settings".
Messaging + Skype improvements: You can now attach photos to your Skype messages by clicking or tapping on the paperclip icon at the lower left as you're composing a new Skype message to a contact. Additionally, you can also invoke the Camera app to take a photo to attach to your Skype message too or send along your location.