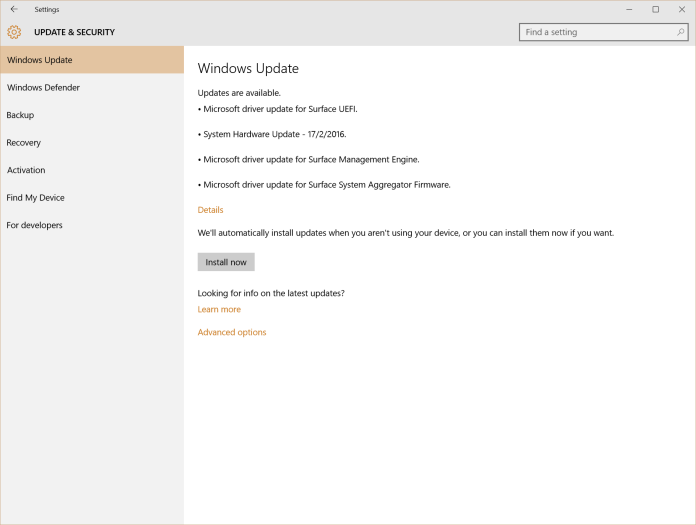 In October 2015, Microsoft unveiled the Lumia 950 series alongside the new Surface lineup which included the new 13-inch Surface Book laptop. Both these devices are designed to take advantage of what Windows 10 has to offer in terms of mobile and on the desktop. Generally, speaking the new Surface lineup that includes the Surface Pro 4 and Surface Book and the Lumia 950 series did not fair well in reviews mainly due to it's software.
Specifically, with the Surface Pro 4 and Surface Book, anyone who bought the device beore this moment in time definitely had the chance to experience the sleep issue that causes the Surface Pro 4 and Surface Book to completely freeze as if it was low on power. The problem affected every Surface Pro 4 and Surface Book user and Microsoft even published an apology note after receiving numerous complains about the issue not being fixed.
But after a long 4 months, today Microsoft is officially putting an end to this problem with a new hardware update that is hitting all Surface Book and Surface Pro 4 devices. So, if you own either a Surface Pro 4 or Surface Book, you will definitely want to spend a couple of minutes to get download and install this update (rebook required) so that you can finally enjoy that 8 hour battery life that Microsoft is claiming.
"Building devices people love is what drives our team. […] I read the blogs, I read the comments, I read social media, I read the forums…and so does the team. We love the energy. We're listening and channeling that feedback directly into our products. Today we're releasing an update to continue to address that feedback."
ORIGINAL SOURCE: MICROSOFT