Windows 10 Mobile update seems to be rolling out in some regions for first wave devices. Recently we reported Lumia 525 receiving the update in Arabia along with Lumia 535 also in Arabia. Again, yesterday there was a new report confirming Lumia 640 XL getting Windows 10 update in Africa.
Now another new report from Winpoin.com, reports that Lumia 430 also receiving Windows 10 Mobile update in Indonesia. WinPoin are able to provide the screenshots as a proof that the update is available in Indonesia.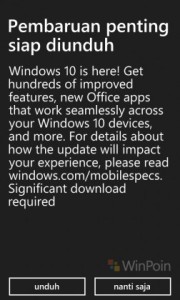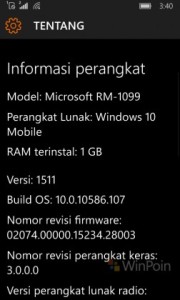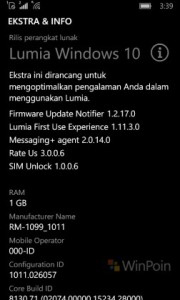 WinPoin also reports that after upgrading to Windows 10 Mobile from Windows Phone 8.1, somethings were broken. One of the broken part was the start screen which become completely messed and the performance was not enough good when we compare it with Windows Phone. However to sort out some issues, reset is the only available option.
Are you excited for Windows 10 update for your Lumia ? Comments below:
Thanks Vicky for the tip !!