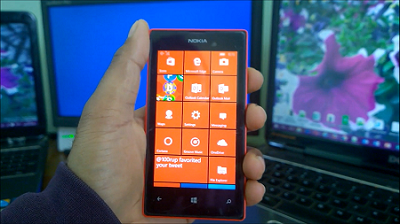 Windows 10 Mobile insider build is already out from couple of days now. We were first to make first impression available to our readers. We are looking closely on the windows 10 mobile builds and checking the performance of the device. As we wanted the users phones to run smooth before they go and install the build. So we will suggest to read all the detailed windows 10 mobile coverage on Windows Latest.
We will right now see the performance of Nokia Lumia 520. In case you want to see the performance of Lumia 520 running build 10586.71 you can check here As earlier done, we will divide the complete review following categories,
First Impression
Performance Review
Multitasking and App Switching
Gaming
Final Verdict
Demo
First Impression
We already mentioned in first impression the current windows 10 mobile doesn't bring any performance improvement apart from just a few fixes.  You can watch the video again for details,
We are using Lumia 520 with from quite a long time now running windows 10 mobile. In short we can say lumia 520 has seen performance improvement when running with windows 10 mobile, more accurately from the previous build 10586.71 (that we found so). If you want to stick your lumia 520 with windows 10 mobile, we need to use it carefully by not giving heavy loads. Overall the first impression is not very positive but it is definitely positive from one of the previous build 10586.63.
Performance Review
Before we judge the lumia 520 for performance we should be keeping in mind that it is just a Dual Core device with 512 MB RAM. So before opening any app keep in mind that there can be no surprise if we get some delay in opening the app. We did random test in opening many apps just to see the opening time. While to our surprise most apps open with a slight delay only, except a few like WhatsApp that always takes time in loading and opening.
Microsoft Office apps like,
Word
OneNote
OneDrive
Outlook
Calendar (Office)
They loads just fine and using them too is satisfactory. Considering the screen size of 4 inches only there is slight delay in using the phone when typing if you are not used to lumia 520 keyboard.

Other Microsoft Apps like,
Microsoft Edge
Windows Store
MSN Weather
Windows Maps
Skype
Also opened fine with slight delays as they are heavy apps in terms of network and resource usage.
Overall in terms of Windows 10 Mobile build which is still in development we can expect the performance improvement in future too.
Talking about the camera (windows camera app),
It is not fast as Lumia Camera is in Windows Phone 8.1, but it takes less time in capturing too. We will not talk about the camera picture quality, as it is out of discussion in this point.
Opening Whatsapp takes it time as usual but it easy to chat and use that. You will get connected that we can assure :)
If we talk about the battery life, it surely good in windows 10 mobile. But we are not able to get good backup since our device in near 3 years old now still we are getting,  more than 2  hours of gaming. But rest assure windows 10 mobile now has good battery performance. We have verified that on Lumia 640 XL. On average we get more than 2 days with gaming, always on Glance Screen and some video capturing too. it also includes the mail syncing and other general phone usage.
Multitasking and App Switching
This is the area where device actually shows the real performance. Here to be honest you will get some delays in switching between apps. Hovering between recent opened apps is just OK. But when switching to app we get loading and resuming windows many times. Here both in terms of app and OS needs optimization, but again there is limit to optimization :(
You can see some issues here too. As you can see in above picture when switching to twitter, the app icon is missing instead its just default transparent png file.
Gaming
As mentioned in our previous reviews we always prefer to do a separate gaming review. We just opened few games to see how much time it is taking in opening the game. If you wish to see the previous gaming review of build 10586.71 you can watch here,
https://www.youtube.com/watch?v=qKwaqXbE23w
We tried to open following games,
Asphalt 8 Airborne
Dream League Soccer
As expected games took their time to open which is certainly more than what you get in windows phone 8.1. That depends on game publisher too how they are going to release the updated version of the game that is optimize for windows 10 mobile.
We will come soon with game review on the current build. Stay tuned.
Final Verdict
In a summary there will be a disappointment in comparing to windows phone 8.1 Both are different OS with different demands. But one you will update your phone to windows 10 mobile you will get used to it. Each new build comes with some fixes and improvements to we will see improvement in each build.
Demo
Here is complete video demo of Lumia 520 running windows 10 mobile build 10586.107.
https://www.youtube.com/watch?v=rOu-5U3lqN0
Do let us know what you think about this current build ?
Thanks for reading.