We at Windows Latest always provide you latest news and reviews about Microsoft and it's product. Our user base is growing at a rapid speed, but many of you might notice our rank in Alexa is very worst because we need your help.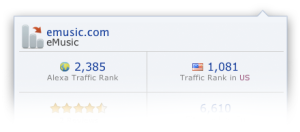 How Alexa Ranks a website:
Alexa ranking stratagy is worst, they track the number of users visited Windows Latest or any other by the browser which have installed "Alexa Rank Toolbox" a extension which allows Alexa to rank the site on basis how many people installed their extension and browsing Windows Latest etc.
What if our all readers installs Alexa Rank Extension ?
We have good amount of daily viewers as we provide quality content and most of you "love it", we request our readers who visit our site using Windows PC, Mac or other OS which supports extension in their respective browsers to install the Alexa Rank extension and help us to grow !
Is there any benefit to install the Alexa Rank extension ?
If you install the Alexa rank extension, not only you help us, but you can also see stats of any other site for example our rival site Wmpoweruser.com. It helps you to gather information about popular sites like Facebook or even Google. It could also help in increasing your GK about webmasters :D
Here are some key features of Alexa extension:
Alexa Traffic Rank: See how popular a website is.
Related Links: Find sites that are similar to the site you are visiting.
Wayback: See how a site looked in the past.
Search Analytics: Find out which queries drive traffic to a site.
How to install Alexa toolbox/extension on your device ?
Alexa extension is same like other extension, you can download Alexa Extension for the following supported browsers:
Download Extension for Google Chrome
Download Extension for Mozilla Firefox
Download Extension for Internet Explorer
Note: We're not forcing you to install the extension, it is as per your wish ! Thank you !