For a past few months we were hearing rumors about Lumia 650, the newest device from Microsoft. Bit after bit we heard about rumored specs, price and so on.
Today Tech Blogger Jim from Tech Blog Ireland published store card of the Lumia 650. Photo confirms phone's specs we were reporting earlier. Phone will have quad-core Snapdragon 212 CPU clocked at the maximum 1.3GHZ speed which indicates that device may be faster than its predecessors. 5MP front facing camera and 16GB of storage is a nice upgrade over older Lumia 640 and these specs are better than lower specs of Lumia 550.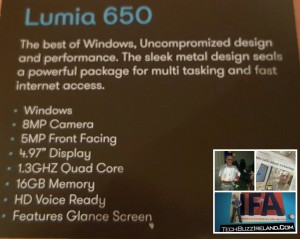 The device will cost €199.99 in Ireland at the launch which seems steep price compared to previous comparable Lumias. Are you planning to get this device? Tell us in the comments section below.
Thanks to Jim for a tip!